In all my days, I've not yet come up with a good way to share the checklist in a way that is easy and useful. I am open to anyone's suggestions as long as you understand I am not overly tech savvy!
Right now, here are the options open to you:
Download a spreadsheet to your own computer. This is an excel spreadsheet. A change log will be maintained here: Change Log (something I did a bad job doing before)
Now, let's say you have the ckecklist already and you just want to add the new pages to it? Here's how to add a page to your copy of the checklist.
Download the new version of the spreadsheet (named newbookcheckphoenix2015.xls)
Open up your checklist. You should name it something different then newbookcheckphoenix2015.xls. Like Jeffschecklist or whatever.
Open newbookcheckphoenix2015.xls
Find the new page I added. For example, find the Women of ST checklist. 
Right click on the word WofST50th to see this menu: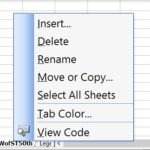 Select the Move or Copy option. Change the name of the TO: to be the name of your copy of the checklist..for example Jeffschecklist The scroll down in the Before sheet box and put it wherever you want it.  I suggest putting it before the Legends Page so it's in the right 'order'. Click OK and the new checklist will be added to your checklist.  Clear as mud? You can ALWAYS email me and ask questions OR send me your checklist and I'll make the move for you!