TNG Heroes and Villains Card Sets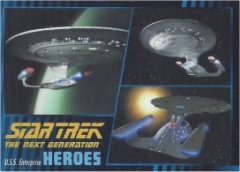 Release Date: July 10, 2013
5 Cards Per Pack
24 Packs Per Box
Production Run-6,000
Set Composition
| | | | |
| --- | --- | --- | --- |
| Base Set-100 | | Parallel Cards-100 | 1:3 |
| Undercover Cards-9 |  1:24 | Romance Cards-18 | 1:12 |
|  Remastered Cards-18 |  1:180 |  Relic Cards-8 |  1:96 |
| Poster Cards-5 |  1:48 | Autograph Cards-60 |  1:6 |
Base Set
Continuing the theme of Heroes and Villains in Star Trek, Rittenhouse released TNG Heroes and Villains July 10, 2013. This 100 base card set was laid out similar to the TOS Heroes and Villains set that preceded it. It used the blue for Heroes and red for Villains color scheme.
Inserts
The first insert set was a matte finish parallel set for the 100 common cards in the base set. There is no numbering difference.
There were 9 Undercover cards, featuring the crew in some of their better *alter-ego* rolls.
Down from an original 36 cards, this set included 18 romance cards, showing pairings of the main crew members throughout the years.
There are 18 Remastered cards, featuring updated CGI and special effects done since the show originally aired. They split into two puzzles which can be made from the backs.
In honor of the 25th Anniversary of TNG, a series of posters were created. This artistic style was reproduced in a 5 card poster set.
There was also an 8 card relics set, featuring costumes and a wanted poster seen in one episode, a Fistful of Datas.
There was a whopping 60 autograph cards styled in the green/white format found in TNG Quotable and Complete TNG, including a few of the main crewmembers, some crossover actors like Tim Russ and Robert Duncan McNeil and some new signers like Olivia d'Abo and Bebe Neuwirth. All autographs (except the signed Spiner costume card) have the authenticity watermark on the back.
Autograph Variations
Richard Herd, Paul Ebbing, Shay Aster and Michael Corbett have one and two line signatures.
Costume Variations
The wanted poster has multiple variants, both with and without parts of the words.The Soong costume card has a patterned and solid variation.
The Nausican has a beige, dark brown, a black and red variation and some texture variations. (see scans)
Promos
P1 for general distribution,
NSU's Vol 24 No.3 issue has an exclusive P2 promo card.
The P3 promo card was an album exclusive. The P4 was released at the San Diego Comic Con.
A rumor had floated around about a P5 promo card at the SDCC, but RA confirms there was just the P4.
---
Villains is spelled incorrectly on the TNG promo cards and there is no corrected version.
---
Misc. Items
Album with exclusive promo card (P3)
Marked archive boxes (unknown quantity) as a dealer incentive. Does not include any base cards nor the promo cards.
The Case Topper card was either a Heroes montage card or a Villains montage card.
The 3-case incentive card is a Denise Crosby quotable autograph card.
The 6-case incentive card is a Brent Spiner as Noonian Soong autographed relic card.