TOS Heroes and Villains Card Set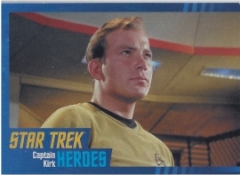 Release Date: February 27, 2013
5 Cards Per Pack
24 Packs Per Box
Production Run-7,000
Set Composition
| | | | |
| --- | --- | --- | --- |
| Base Set-100 | | Parallel Cards-100 | 1:3 |
| Tribute Cards-12 |  1:6 |  Epic Battles-9 | 1:12 |
| Mirror, Mirror-9 |  1:24 |  Autograph Cards-33 |  1:24 |
| Shadowboxes-9 |  1:48 | | |
Base Set
Released Feb 27, 2013 this release focused on Heroes and Villains from the Original Series. They were featured on a common set of 100 base cards. The color scheme was blue for Heroes and red for Villains.
Do you agree with all the choices for the characters? Are some less Villains and more Hero?
Inserts
A parallel set of 100 cards was also found in packs. It had a throw-back style from the 70's with a more matte finish.
Sadly, the tribute card set continues as we lose more and more guest stars through the years. This set features stars lost from Season 3.
9 Kirk's Epic Battles are shown on this foiled insert set.
A 9-card Mirror/Mirror insert set features a layout similar to the DS9 Alternate Realities insert set and is a cheaper alternative to the popular TOS II MIrror set!
A new card set for Trek was the Shadowbox cards, a thick plastic layered card for each of the main cast. These cards don't easily slide into 9-card pocket pages.
A box contained one dual autograph card and one single autograph card. The most coveted card of the set was the Shatner/Collins card, though the hardest to acquire was the dual card of the Shatner girls. The dual format allowed for some really great pairings of guest stars.
Autograph Variations
The Napier/Downey autograph card has a one-line and two-line variation.
A small number of the Brioni Farrell cards were signed with an "AKA: Xenia Gratsos" inscription.
Promos
The P1 was released for general distribution.
NSU's Vol 24 No.1 issue has an exclusive P2 promo card.
The P3 promo card was an album exclusive.
Misc. Items
Album with exclusive promo card (P3)
There were two different Case Topper cards, a Heroes and Villians Montage card.
The 3-case incentive card is a Nichelle Nichols autograph/relic card.
The 6-case incentive card is an autograph card of Leonard Nimoy from a new Silver SIgnature Series.
Archive boxes were offered as incentives, which include and A and B box. Inside was a full parallel set, all inserts and incentives and a small number of the base set.
Reward card T50 Roger Carmel Tribute Card.