Quotable Star Trek Movies Set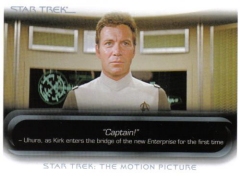 Release Date: June 3, 2010
7 Cards Per Pack
20 Packs Per Box
Production Run-6,000
Set Composition
| | | | |
| --- | --- | --- | --- |
| Base Set-90 | | WoST Expansion-9 | 1:6 |
| Bridge Crew Transitions-9 |  1:12 | Movie Poster Cards-10 | 1:12 |
| Autograph Cards-36 |  1:8 |  TMP Bridge Crew Patch Cards-9 |  1:110 |
Base Set
This set released in 2010 and has a 90 card base set that features quotes and scenes from the first 10 Star Trek Movies. The cards are double-sided with quotes and images on both sides. Each movie gets 9 cards.
Inserts
A 9-card Women in Star Trek Movies expansion set. The style is similar to the Women in Star Trek common set, but reflects characters in the movies. A small amount of these cards were accidentally inserted into the Women of ST release, but for those who waited patiently, these cards were fairly easy to acquire.
10

clear plastic Movie Poster cards make up the next insert set.

10 Star Trek Bridge Crew Transitions cards, showing the TOS main crew as they appeared throughout the years. The 10th card features the Enterprise and was a Rewards Card.
9 TMP Bridge Crew patch cards make up the hardest to acquire insert set, found about 1:110 cards, originally 1:144 packs. The cards are machine-numbered x/250. From Rittenhouse: "With the patch cards, there were very few cards left over, after all of our needs were filled. And a little known secret is that just because we announce 1:110 packs doesn't mean that a few more cards aren't sprinkled into the production run, too. If you recall, we originally set the insertion rate at 1:144, but then realized we could insert these cards more frequently. When the final production run is going, we sometimes will tweak it a bit, so that the occasional extra card finds its way into the packs."
36 full-bleed autographs in this set, found 3 per box. It included some new signers such as Kim Catrall and John Larroquette. There are two A83's, Paul Kent and Alan Ruck. There were some collector grumblings about the image used on the Data autograph card. Steve Charendoff had this to say on the forums: "Someone commented that he didn't like the one of Brent Spider/Data, which is actually my favorite. For any of us die-hard fans of the TNG shows/movies, that scene where he's taking the awful tasting drink from Guinan is hysterical — probably one of the funniest moments in all of Star Trek. THAT picture was the only one to choose. For anyone who doesn't know the scene, it is used in the base set, so you can look it up. I laugh just thinking about it. And by the way, on the topic of Brent Spiner, he is such a great guy. One of the perks on my job is that sometimes I come directly in contact with the actors (vs. dealing with their agents — UGH, in most cases). In almost all cases, the actors are really decent people. The agents tend to get in the way. But Brent is awesome. He is probably the most responsive to our requests, and he's always very accommodating. It's just very refreshing to work with people like him, who make this such a fun business. There are lots of other actors who are great to work with, too, but Spiner is just terrific."
Autograph Variations
A85 Bruce French signed on one line and two lines.
Promos
P1 is the general release promo card.
NSU's Volume 21 Number 3 has the P2 promo card. The P3 promo card was an album exclusive.
The P4 card was a FaceBook exclusive. If you *liked* RA's FB page, you could send a SASE for a free promo card.
Misc. Items
Album with exclusive promo card (P3)
Marked and unmarked archive box (unknown quantity). The Archive Box contains all of the pack inserted autograph cards, chase cards (including the patch cards), case topper and 3 case incentive. It does not however contain a base set of cards or the 6-case incentive.
The Case Topper card is a Data from Insurrection costume card, hand numbered x/775. In response to why 775 cards were used when there were only 500 cases produced, Rittenhouse stated, "There are 775 case cards only because we had to set a number for these long before we knew how many cases were being made. So I erred on the side of too many. In this case, way too many. The extras just sit here in storage. But keep in mind that we need to have extras of everything for customer service replacements, for our licensors, and for our own internal archives. We can't put every single card of every type into the product and then have nothing left over. This is often very overlooked by collectors when doing this kind of math, although I admit that we made far too many of these case toppers. No question."
The 3-case incentive card is an autograph card of Michael Dorn from ST V-A96.
The 6-case incentive card is an autographed Data from Insurrection costume card. Hand numbered x/200.