Women of Stat Trek 2010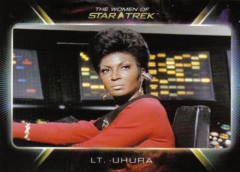 Release Date: March 10, 2010
5 Cards Per Pack
24 Packs Per Box
Production Run-7,500
Set Composition
| | | | |
| --- | --- | --- | --- |
| Base Set-81 | | Artifex-10 | 1:8 |
| Expand a Card-3 |  1:18 | Romantic Relationships-9 | 1:24 |
| Leading Ladies-9 |  1:180 |  Costume Cards-25 |  1:12 |
| Autograph Cards-49 |  1:8 | | |
Base Set
Ten years after their oversized Women of ST set, Rittenhouse Archives revisited this popular subject in a standard sized trading card format. It was eagerly anticipated and sold out prior to it's release. The base set consisted of 81 women from all 5 TV series, with images on the front and back. One consistent complaint is the lack of text on the common cards. A short piece about the character on the front would have suited many collectors. Each box came with 3 autographs and 2 relic (costume cards, along with a few other insert cards).
Printed at the same time was a set of 9 Women in Star Trek Movies set, a subset due to release with a future card set. Some singles did get into packs of this product, but RA assured collectors that they would eventually release in large quantities and not to spend a lot on them now!
Inserts
10 Women of Trek Artifex cards, reproduced portrait cards.
The 9 Leading Ladies cards are clear plastic cel cards with two images of a main female star, though the second images is a bit too faint.
9 Romantic Relationship cards touch on some popular couples and also reflect the only male presence in this set.
This set consists of 25 relic (or costume cards) cards. The design on these cards is spectacular, bright and colorful. Cards WCC16 and WCC27 were removed from the checklist and not released shortly before the set came out.
In 2012, auctions for uncut sheets of the front portion of the costume cards went for sale on Ebay. These cards have no fabric or a back. What is of note is they show the two cards that were pulled from the release.
There are 49 autograph cards in the packs, several of whom are first time signers. The style of the autographs is similar to the archive cards from the 2000 set.
Autograph Variations
Andrea Martin has a 1-line and 2-line variation.
Chase Masterson has a 1-line and 2-line variation.
Costume Variations
There are multiple variations, which are all listed in the checklist section of the USB. A few of the variations can be a matter of interpretation and are up to the individual collectors (for example the plaid Janeway variation)
The most unusual variation is what is called the tag variation. The swatch features part of the inside tag of the costume, and has a part of the series name and the actress's name. So far only a few different tags were used in this way and include Janeway, T'Pol and Kira.
Promos
P1 General Distribution
P2 Non Sport Update Magazine exclusive in NSU Vol. 20, Issue 6
P3 Binder Exclusive
P4 San Diego Comic Con – 2009
Misc. Items
Album with exclusive promo card (P3)
Marked and unmarked archive box (unknown quantity). Included all incentives, but did not include a base set.
The Case Topper card is the Sabrina Scharf autograph card
The 3-case incentive card is a Nana Visitor/Terry Farrell Dual Autograph Card
The 6-case incentive card is an autograph card of Majel Barrett