TOS 2009 Card Set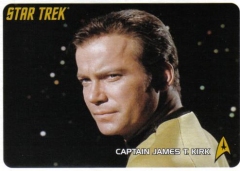 Release Date: August 12, 2009
5 Cards Per Pack
24 Packs Per Box
Production Run-5,000
Set Composition
| | | | |
| --- | --- | --- | --- |
| Base Set-110 | | Tributes-18 | 1:12 |
| TOS in Motion-10 |  1:18 |  Portrait Cards-18 | 1:8 |
| Autograph Cards-48 |  1:8 | | |
Base Set
In August of 2009, Rittenhouse completed their trilogy of TOS 40th Aniversary cards. This set followed in the footsteps of TOS 40th I and II, with a retro look and a puzzle back. It featured Season Three of the TV Series and consisted of 110 cards in the base set.
Inserts
This set came with a wonderful new insert set, the tribute cards. Done up similar to the autograph cards, this 18 card set pays tribute to the actors who have passed away prior to the popularity of the autograph cards. A thread on Rittenhouse's forums had many collectors requesting either cut signature cards of actors who had passed away or gold facsimile cards. Rittenhouse responded with: "I doubt that we would be able to use facsimile signatures of any of these deceased actors either, for many reasons that are worth getting into. Finally, I like this idea of tribute cards that look similar to the real autograph cards, and we'll probably work that into an upcoming product. However, I will want to make sure that the cards are "similar" looking, but by no means so similar as to confuse anyone into thinking they are actual autograph cards. I hope that helps clarify at least a little bit of how this may play out. I really like the idea in general, and I especially like it that this idea came from collectors. Keep 'em comin'!!!!"
18 card Portrait set.
18 TOS in Motion cards, which feature PIke and Vina from the first pilot, the Cage.
48 autographs, with several first-timer signers, including William Shatner's children, who appeared in Miri. A few of the cards in this set raised some concerns about the authenticity, but Rittenhouse stands by the cards. There was some variations on the Paul Baxley signature. Although companies don't as a rule, go into details on how they validate signatures, there are steps in place to verify the actors signed the card. The actor absolutely stands by the cards being his signature.Kim Darby is older and frail and her signature varies from earlier cards. There were some complaints about Bob Bralver signing B. B., but Steve Charendoff says, " I will admit that he told me in advance that that was how he signs his name. "
Autograph Variations
A234 Bob Bralver has a full signature variant.
Promos
The P1 card is for general distribution.
NSU's Vol 20 No.4 issue has an exclusive P2 promo card.
The P3 promo card was an album exclusive.
The P4 was give out at the San Diego Comic Convention.
Misc. Items
Album with exclusive promo card (P3)
Marked and unmarked archive box (unknown quantity) with all pack insert cards, but not a complete base set.
The Case Toppers were 5 x7 In Memorium cards of Majel Barret as Nurse Chapel and and Number One.
The 3-case incentive card is a Water Koenig autographed costume card.)
The 6-case incentive card is an dual-autograph card of William Shatner and Nichelle Nichols in Plato's Stepchildren.)