TOS 40th Anniversary Card Sets
Series One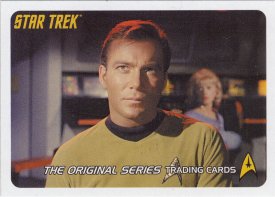 Release Date: November 1, 2006
5 Cards Per Pack
40 Packs Per Box
Production Run-9,000
Set Composition
| | | | |
| --- | --- | --- | --- |
| Base Set-110 | | Captain Pike-18 | 1:14 |
| Faces of Vina-6 |  1:20 | Quotable TOS Expansion-18 | 1:40 |
| 1967 ST Leaf Expansion-18 |  1:40 |  Star Trek Portraits-18 |  1:40 |
| Delta Shield Patch cards-7 |  1:200 | Autograph Cards-31 |  1:20 |
| Eugene Roddenberry card |  1:490 | Roddenberry cut card |  1:4320 |
Base Set
Around the anniversary of the original airing of the Original Series, Rittenhouse released a TOS only set November 1, 2006. This set took on a very retrospective leaning with a 110 base set on card stock similar to cards in the 70's, complete with puzzle-backs (but without the gum and gum stains, focusing in season one. This set sold out shortly after release.
There is an error in the base set, with two different card #58's. Originally printed with the same front as card #55, Rittenhouse reprinted the card with the proper front in time to be inserted into packs.  The correct #58 is "Searching for the Horta" .
Inserts
Many of the insert sets are very subdued in their use of technology, continuing the theme of the retro base set.
There is a 6-card Faces of Vina subset, featuring various images on both front and back.
There is also a similar style 9-card Pike subset.
The coup de grace to this retro-set is an 18-card Leaf expansion set. Rittenhouse carefully recreated the style and look of the old 1967 Leaf set but with Pike as the theme. A few collectors noted that, unlike the original cards, these card-backs actually make SENSE, but getting approval from the license holders for nonsense backs would have proven difficult, according to Rittenhouse's forum.
Inserted one per box, the 18-card Portrait set features black and white images of some of the best known characters from TOS, from crew to alien races to love interests.
One of the not-so-retro sets is the Delta Shield 7-card set. These cards look very nice with bright colors and featuring gold mini-versions of the patches worn on the crew-member shirts, there is one for each of the main cast members. Each card is hand-numbered x/350. A few error cards have been found with the wrong patch for that particular crew member.
Following in the footsteps of the TOS Quotable card set, there is an 18-card expansion set with double sided quote cards.
The autograph cards reflect the SKyBox format from TOS I-3 card set Steve Charendoff introduced in 1997. There are 31 autograph cards all done up in this full-bleed, full-color style. Three cards, Compton, Rice and Woodville are missing the blue line underneath the signature area. This printing omission exists on all copies of the cards. The Takei autograph cards and the Washburn autographs are both numbers A135.
One surprise treat was a Eugene Roddenberry Jr. autograph tribute card. Gene Roddenberry's son signed the back of a tribute card to his father with a message thanking fans for 40 years of support. This card is limited to 220 cards.
And then, there is *the* card…a Gene Roddenberry cut signature card, numbered x/25. Since Gene Roddenberry passed away before the popularity of the autograph Star Trek trading card, most card collectors do not have the pleasure of owning even a convention signed card of the Great Bird of the Galaxy. The family provided RIttenhouse with checks from his personal checking account which were cut down and made into these very coveted cards. Needless to say, this card has created quite a buzz with many TOS lovers (Trekkies!) hoping that this very unique card would fall into their box. According to an NSU article, the Roddenberry family kept a few copies of the Gene R cut signature card, making less then 25 in the packs.
---
Roddenberry Productions reports that Gene Roddenberry uses Eugene for his personal bank accounts and Gene for business.
---
An exceprt from a StarTrek.con article includes this quote from Lois Jewell: "JEWELL: I have very much enjoyed it. It was like another door opened up in my life that I didn't even know existed. I just enjoy pleasing the fans. If the fans are there and they want me to sign pictures for them, then I'm very happy to do so. I also signed trading cards. There's a company that does cards for several shows, and they do a lot of them for Star Trek, so they sent me 1500 of these little tiny training cards of me as Drusilla to sign. Then they sent me another 1500 that was the character in cartoon form. I never knew that there was a cartoon version of Drusilla. I'd never seen it, but they sent me cards of that to sign, too. They paid me, of course, and the cards are available in packs. So that was very interesting and an added, new thing. I have a few of the cards sitting around here." Jewell quote is from an article on StarTrek.com (http://www.startrek.com/article/exclusive-interview-lois-jewell-drusilla-on-the-original-series(
Autograph Variations
Lawrence Montaigne was given a variant image of his A107 card which he signed at the 2007 Philly Show.
Promos
P1 sent to dealers and general release
P2 found exclusively in NSU magazine, Vol. 15, No. 5.
P3 was a binder exclusive.
UK was released in the United Kingdom
CP1 was a convention exclusive
Misc. Items
Case Topper cards- Rand and Chapel TV Guide cards. (found together in one top loader with a gold seal.
6-case incentive autographed costume card of Leonard Nimoy.
Binder with P3 promo and Walter Koenig autograph card.
Sell Sheet
15 marked and 15 un-marked archive boxes were sorted into the product. There are no incentives or case toppers in the archive box (or Gene Roddenberry card).
---
Series Two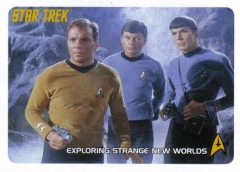 Release Date: March 12, 2008
5 Cards Per Pack
24 Packs Per Box
Production Run-9,000
Set Composition
| | | | |
| --- | --- | --- | --- |
| Base Set-110 | | Sticker cards-18 | 1:12 |
| Faces of Vina-6 |  1:20 | Charlie-X Revised-9 | 1:24 |
| 1967 ST Leaf Expansion-18 |  1:12 |  Star Trek Portraits-27 |  1:8 |
| Autograph Cards-52 |  1:8 | | |
Base Set
In March 2008, Rittenhouse released Series II of the TOS 40th Anniversary set. It continued the retrospective look with its 110 base set with a card stock and style similar to cards in the 70's, complete with puzzle-backs. This set is centered around season 2.
Inserts
When SkyBox released their TOS Season One set, they were unable to acquire the rights to use shots of Robert Walker Jr. on their cards. Rittenhouse was able to address this and re-created the 8-cards from the SkyBox set using his image. This insert set includes 2 common cards, two Character Log cards, one Profile, One Behind the Scenes card and one gold plaque card.
27 more black and white portrait cards are included in this set, featuring the crew and favorite guest star aliens.
One insert set continues the expanded Leaf set focusing on the episode Where No Man has Gone Before.
There are 18 stickers, done up in the Topps 1976 theme (with blank backs) and no gum stains!). The odds of getting a sticker was increased from one per box to two per box, so that it would be possible to make a set in one case.
This set includes 52 pack pull autograph cards (3 cards per box).
Similar to TOS 40th Anniv. Series I, it includes a cut-signature card of James Doohan. It is hand numbered to 150.
Autograph Variations
Barbara Baldwin signed two different A149's as two different characters.
Billy Blackburn signed two different cards, A143 and A144.
Majel Barrett signed as Nurse Chapel and the voice of the computer (A155).
Craig Huxley also signed two different cards, A178 and A179).
Bob Heron signed cards A146 and A152.
Promos
P1 sent to dealers and general release
P2 found exclusively in NSU magazine, Vol. 19, No. 1.
P3 was a binder exclusive.
P4 was released at various conventions.
Misc. Items
Case Topper card- Sealed A136 Joanne Linville autograph card. This was previously going to be a movie preview card for the upcoming Star Trek feature film.
3-case incentive autographed costume card of George Takei.
Binder with P3 promo and exclusive autograph card.
Sell Sheet
Archive boxes-marked/unmarked. Unknown quantity. Not a full base set, but did include incentive cards. (except Doohan).
Press Release
Following up on 2007's SOLD-OUT "Star Trek: The Original Series 40th Anniversary trading cards", comes Star Trek: The Original Series 40th Anniversary Series 2 featuring all of the same unique designs and card-stock from last year's set, but focusing on the ground-breaking second season of the original series of Star Trek.
Each box of this set will feature 3 Autograph Cards in the fan favorite classic design. Signers for this commemorative set include:
• William Shatner as Romulan Imposter in The Enterprise Incident
• Grace Lee Whitney as Yeoman Janice Rand in Charlie X
• Venita Wolf as Yeoman Ross in The Squire of Gothos
• Lou Antonio as Lokai in Let That Be Your Last Battlefield
• Andrea Dromm as Yeoman Smith in Where No Man Has Gone Before
• Biff Elliot as Schmitter in The Devil in the Dark
• Craig Huxley as Peter Kirk in Operation: Annihilate!
• Craig Huxley as Tommy Starnes in And the Children Shall Lead
• Richard Evans as Isak in Patterns of Force
• Irene Kelly as Sirah in The Omega Glory
• James X. Mitchell as Lt. Josephs in Journey to Babel
• Joanna Linville as Romulan Commander in The Enterprise Incident
• Phil Morris as Onlie Boy in Miri
• Iona Morris as Onlie Girl in Miri
• Felix Silla as Talosian in The Cage
• Billy Blackburn as Lt. Hadley in Return to Tomorrow
• Billy Blackburn as White Rabbit in Shore Leave
• Julie Cobb as Yeoman Leslie Thompson in By Any Other Name
• Bob Herron as Kahless The Unforgettable in The Savage Curtain
• Deborah Downey as Mavig in The Way to Eden
• Louise Sorel as Rayna Kapec in Requiem for Methuselah
• Barbara Baldavin as Ensign Martine in Balance of Terror/Turnabout Intruder
• Bruce Mars as Charley in Assignment: Earth
• Bob Herron as Sam in Charlie X
• Sean Morgan as Lt. O'Neill in Return of the Archons
• Sean Kenney as Lt. DePaul in A Taste of Armeggedon

• Majel Barrett as Nurse Chapel in Turnabout Intruder
• Arnold Lessing as Lt. Carlyle in The Changeling
• Win De Lugo as Lt. Timothy in Court Martial
• Vince Deadrick, Sr. as Lt. Matthews in What Are Little Girls Made of?
• Michael Dante as Maab in Friday's Child
• BarBara Luna as Lt. Marlena Moreau in Mirror, Mirror
• Jan Shutan as Lt. Mira Romaine in The Lights of Zetar
• Stewart Moss as Hanar in By Any Other Name
• Celeste Yarnall as Yeoman Landon in The Apple
• Yvonne Craig as Marta in Whom Gods Destroy
• Fred Williamson as Anka in The Cloud Minders
• Dave Somerville as Lt. Larry Matson in The Conscience of the King
• Pamelyn Ferdin as Mary Janowski in And the Children Shall Lead
• Michael Pataki as Korax in The Trouble with Tribbles
• Sid Haig as First Lawgiver in The Return of the Archons
• Melvin Caesar as Belli Steve in And The Children Shall Lead
• Steve Marlo as Zabo in A Piece of the Action
• Erik Holland as Ekor in Wink of an Eye
• Lloyd Kino as Wu in The Omega Glory
• Derek Partridge as Dionyd in Plato's Stepchildren
• Jerry Ayres as Ensign O'Herlihy in Arena
• Louie Elias as Engineering Technician in And the Children Shall Lead
• James Daris as Morg in Spock's Brain
• Marj Dusay as Kara in Spock's Brain
• Bonnie Beecher as Sylvia in Spectre of the Gun

Rounding out the chase cards are several exciting sets including :
27 Star Trek Portraits (1:8 Packs)
9 "Charlie X" Revised Episode Cards (1:24 Packs)
18 1967 Star Trek Expansion Set – "Where No Man Has Gone Before" (cards #91-) (1:12 Packs)
18 Star Trek Sticker Cards (1:24 Packs)
For every three cases purchased of Star Trek: The Original Series 40th Anniversary Series 2 Trading Cards you will receive an Exclusive Autographed Costume Card signed by Geroge Takei as Lt. Sulu. For every six cases purchased you will receive an Exclusive James Doohan Archive Cut Signature Card!Fans and collectors will also be able to store their collection in a custom designed collector's album which contains an exclusive autograph card of Ralph Maurer as Bilar in "The Return of the Archons" and an exclusive promo card.