TOS Arts and Images Card Set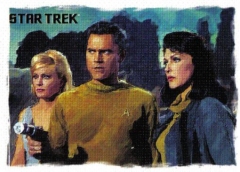 Release Date:Nov. 16, 2005
5 Cards Per Pack
24 Packs Per Box
Production Run-7,000
Set Composition
| | | | |
| --- | --- | --- | --- |
| Base Set-81 | | Comic Book Art-61 | 1:4 |
| Animated Expanded-39 |  1:8 | Artifex-9 | 1:24 |
| SketchAFex-29 |  1:48 |  Autograph Cards-30 |  1:12 |
Base Set
According to Rittenhouse, this card set is "the very first set EVER to encompass all 79 episodes of the classic Star Trek in a single card series". There are images from each and every episode in this card set, printed on a canvas type card stock and digitally enhanced (or arti-fied, as they call it) to make each image appear as a mini-portrait on canvas. Each card has a gold foil stamping in the corner. Backs include a smaller version of the same image as the front, card and episode title. The base set has 81 cards, which includes two checklist cards.
Inserts
61-card Gold Key Comic subset, featuring a card from each comic book. For collectors unfamiliar with Gold Key, this comic began it's run in 1967. It is done up in a format similar to the small subset in TOS Quotable.
29 sketchcards, each card hand-drawn and include one card per episode for the first season.
The Animated Expanded Universe card set showcases the work of John Czop, who created a series of 39 cards featuring characters from the world of TOS, as they would have looked, had they been seen in the Animated Series. Fronts and back display the same image.
John Czop also put together the 9-card Artifex subset, featuring brightly colorful scenes and characters from TOS in a montage of images as animated characters.The cards are on thicker stock with a high gloss These are not scenes from the cartoon show but done up in that style.
Promos
P1-General Distribution
P2-NSU exclusive- Vol 16/No. 5 October/Nov, 2005
P3-Binder
CP2005-Convention promo
CE2005-Canadian National Expo promo
UK-UK exclusive
Misc. Items
Three case toppers with hand drawn sketchcards by Steven Miller. Came sealed in a toploader with the Rittenhouse seal.
The two-case incentive card for this set was the a sketchcard by Warren Martineck. Each card featured the USS Enterprise, but with a wide variety of backgrounds and coloring. These cards became quite popular on the secondary market as many collectors chased after multiple copies for their collection. Came sealed in a toploader with the Rittenhouse seal.
The 6-case incentive is an autograph card of William Shatner in the Legends format. Came sealed in a toploader with the Rittenhouse seal
Binder-with an exclusive promo card and an Arlene Martel autograph card.
Sell Sheet
Archive boxes-Marked and unmarked, unknown quantity. Base cards, case topper cards, case incentive cards, collector's album inserts, promo cards and SketchaFEX cards are not included in this Archive Box.
Press Releases
From Rittenhouse's Website:
Believe it or not, this is the very first set EVER to encompass all 79 episodes of the classic Star Trek in a single card series. Rittenhouse Archives has captured the incredible imagery from all 79 episodes and placed it on foil-stamped canvas stock. Each images has been "artified" to give it a unique look that complements the paper it is printed on.
There will be 2 signed cards per box, with many key actors signing cards: Leonard Nimoy (Mirror Spock), Ricardo Montalban (Khan), Joan Collins (Edith Keeler), Kathy Hays (Gem), Yvonne Craig (Marta), Walter Koenig (Chekov), Grace Lee Whitney (Rand) and many others.
Also included in this set is a unique series of hand-drawn sketch cards featuring imagery from each of the show's 29 first-season episodes. Artist for this series include:
Sample SketchaFEX cards
* John Czop
* Warren Martineck
* Joe Corroney
* Steven Miller
* Scott Rosema
* Patrick Hamill
* Sean Pence
* Cris Bolson
* Michael Kraiger
These very limited sketch cards will be inserted at an average rate of one in every 2 boxes.
Sample ArtiFEX cards Rounding out the chase cards are several exciting sets including :
* 61 The Comic Book Art of STAR TREK (6 Per Box) – Remastered artwork from all 61 original Gold Key comic books which began its run in 1967
* 39 Star Trek: The Animated Series Expanded Universe Cards (3 Per Box) – artist/illustrator John Czop has created more than 3 dozen original renderings of characters in the style of the 1973-74 Star Trek animated series. All of these renderings are interpretations of characters, including Ensign Chekov, Yeoman Rand, Khan, Edith Keeler, The Gorn and many more, made famous in the classic live-action version of the show but who never appeared in the actual animated series
* 9 Original Series ArtiFex Cards by John Czop (1 Per Box)
For every two cases purchased of Art & Images of Star Trek: The Original Series Trading Cards you will receive an exclusive hand-drawn and colored sketchaFEX™ of the U.S.S. Enterprise NCC-1701 drawn by Warren Martineck!
Fans and collectors will also be able to store their collections in a custom designed collector's album which contains an exclusive autograph card of Arlene Martel as T'Pring and an exclusive promo card