TNG Quotable Card Set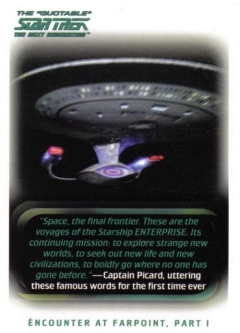 Release Date: April 6, 2005
5 Cards Per Pack
40 Packs Per Box
Production Run-9,000 ((6,000 US and 3,000 UK)
Set Composition
| | | | |
| --- | --- | --- | --- |
| Base Set-119 | | Space the FF-9 | 1:5 |
| TV Guide-9 (US) | 1:40 | Captain's Women-9 (UK) | 1:40 |
| Starfleet Finest-9 |  1:120 |  Costume Cards-9 |  1:40 |
| Autograph Cards-26 |  1:40 | Sketchafex Cards- 7 |  1:480 |
Base Set
Following in the path of TOS Quotable, TNG Quotable was released in April, 2005. The 110 common set featured double sided quotes from the TNG series. Like TOSQ, some quotes can be harder to read, especially if wordy, but also like TOSQ, the card layout allows clear and delightful images on both front and back.
There were both US and International boxes/cases produced for this set. Of the 9,000 total boxes, 6000 were US and 3,000 were UK boxes. The table below lists the differences between the two.
| | |
| --- | --- |
| US | International |
| 500 cases | 333 cases |
| Outer case in black ink | Outer case in red ink |
| Box labeled North American Edition | Box labeled International Edition |
| TV Guide insert set of 7 (1:40) | Captain's Women insert set of 6 (1:40) |
| Bolson Sketch card case topper | Martineck Sketch Card case topper |
Inserts
9 Space: The Final Frontier cards which form a mural on both front and back and 6 TNG Comic Book cards which actually open up to reveal scenes from the comic book.
9 TV Guide Covers cards in US boxes
9 The Captain's Women cards in the International boxes. The W7 is slightly miscut, missing a bit of the far left, all cards are cut this way.
The 9 Starfleet's Finest cards are numbered x/399.
1 SketchaFex Card in each case, with a total of 7 variations. All the cards feature the Enterprise-D, the variation being in how the card is facing. A complete list includes:
Enterprise from above going right to left
Enterprise from behind and pointing up
Enterprise separating into 2 parts
Enterprise from behind and pointing down
Enterprise from below and right
Enterprise moving forward and at a 45 degree angle
Enterprise from below and moving left
There are 24 Autograph Cards in one of three styles. The first was a Quotable format, similar to the bridge crew autographs for TOSQ and the second was a more standard style of autograph card. Some of the main cast signed in both a quotable layout and as a holodeck character, such as Sherlock Holmes for Data or Dixon Hill for Patrick Stewart. The third format was a set of 4 dual autograph cards, each limited to 200 (up from original mentions x/150). Saul Rubinek was originally planned to be included, but was eventually substituted with Julie Catlin Brown. Unlike TOSQ, the bridge crew autograph cards did not have variations in their quotes. Also, except for the Bridge Crew, the autograph cards are not numbered.
Each box contains one of 9 From The Archives Costume Cards. The costume piece cards feature all the main crew and have colored or back swatches with some having a dual color costume card. In regards to the material used for these costume cards, Rittenhouse said. "On the issue of the Quotable TNG costume cards. These did come from actual costumes and each card was made from an individual costume. The costumes were either acquired at auction by Rittenhouse or provided by the studio. I have posted images of some of the costumes on the Quotable TNG page for reference." It was noted there was a discrepancy in the Yar photo and the costume used and Rittenhouse states: "One other item to note is that while (we) strive to show the actual costume being worn on the front of the costume card this isn't always possible. At times we are forced to use the best image available to us at the time the cards are printed."
Costume Variations
The Picard costume cards has a *piping* variation-this comes from First Season Uniforms that have the colored thread running through the black near the shoulders.
A much less common Data *piping* card has also been seen.
The full list of variations include:
Picard – Black, Red, Dual, Piping
Data – Black Gold, Dual
Riker – Black, Red, Dual
Troi – Blue, Black, Dual
La Forge – Gold, Black
Crusher – Blue, Black, Dual
Worf – Gold, Black
Yar – Gold, Black, Piping
Wesley – Black, Red
Promos
P1-general distribution
P2-NSU exclusive found in issue Volume 16/1 February-March 2005.
P3-UK exclusive
BP-binder exclusive
Misc. Items
U.S. Case Topper Romulan Warbird SketchaFex card by Cris Bolson.
International Case Topper Borg Cube vs U.S.S. Enterprise SketchaFex card by Warren Martineck. Originally intended to be a Bolson Sketch card, it was substituted in at the last minute.
1st Tier Multi-Case Incentive autographed Marina Sirtis TV Guide Card (1 for every 2 cases purchased)
2nd Tier Multi-Case Incentive dual autographed Stewart/Spiner Card (1 for every 6 cases purchased)
Collector's Album Card with an autographed card of Marta DuBoise as Ardra and the BP promo card
Archive Boxes-15 marked and 15 unmarked boxes seeded randomly into the print run.Included all pack pulled cards except Star Fleet Finest. Did not include Case Topper cards, 3 or 6-case incentive cards or album exclusives.
As a cross-promotion, there were two CCG cards from Decipher, Picard and Sela. These cards were originally released by Decipher in earlier promotions, but were found 1 per box, along with a paper insert offering more information on Decipher products.
Sell Sheet
Press Releases
Due to circumstances beyond our control, the Saul Rubineck autograph card will not be included in this trading card series. We have included Julie Caitlin Brown as Vekor in his place. Another change to note is that the artist for the International Case Topper SketchaFEX ™ card has changed from Cris Bolson to Warren Martineck. The sketch subject of "Enterprise versus Borg Cube" remains the same however. Rittenhouse Archives regrets any inconvenience this may cause.
Details from RA's website:
Following up on last years sell-out hit set The Quotable Star Trek: Original Series, Rittenhouse Archives is excited to offer collectors The Quotable Star Trek: The Next Generation trading cards in early 2005!
Each box of The Quotable Star Trek: The Next Generation comes with 1 autograph card and 1 costume card! Cast signers include: Patrick Stewart, Brent Spiner, Jonathan Frakes, Marina Sirtis and Michael Dorn on the "quotable" autograph design used in last years The Quotable Star Trek: Original Series series. Also included are a bevy of guest star autographs on an all-new autograph card design. Also featured on this new autograph card design are several of the regular cast as their holodeck characters.
Collectors should also keep their eyes out for several dual autograph cards randomly inserted into the packs. Each card is a limited edition of only 150 each! (CHANGED TO 200)
Rittenhouse Archives has also acquired authentic Star Trek: Next Generation costumes to be used on 9 different costume cards. Each member of the bridge crew is represented in this set. Be sure to keep you eyes open for the limited edition dual-color costume cards that will be individually numbered to 99! Bonus cards for this incredible series include:
Space: The Final Frontier (1:5 packs)
The "Quotable" Star Trek: TNG The Comic Book Cards (1:14 Packs)
Collectable TV Guide Cover Cards (US Exclusive 1:40 Packs)
The Captain's Women (UK Exclusive 1:40 Packs)
Starfleet's Finest (1:120 packs)
A Custom-designed album to store the entire collection, including plastic pages, bonus promo card and an exclusive autograph card signed by Marta DuBoise as Ardra will also be available.