TOS Quotable Card Sets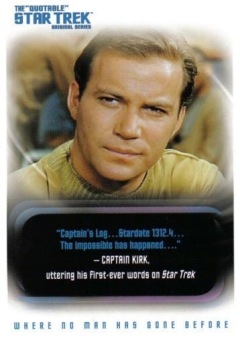 Release Date: March 24, 2004
7 Cards Per Pack
40 Packs Per Box
Production Run-10,000
Set Composition
| | | | |
| --- | --- | --- | --- |
| Base Set-110 | | Space-TFF-9 | 1:5 |
| Animated Series-18 |  1:5 | Comic Book-9 | 1:10 |
| Captain's Women-9 |  1:40 INT |  TV Guide-7 |  1:40 US |
| Starfleet Finest-7 |  1:120 | Autographs-27 |  1:20 US |
Base Set
If there is one thing to be said about TOS, it's all about the quotes. Many Trekkies memorized their favorite episodes, especially after watching them over and over again throughout the years. Some quotes from ST have made it into the mainstream.."Live long and Prosper", "He's Dead, Jim". Some popular quotes, like "Beam Me Up, Scotty were never actually said word for word in the show, but are found on bumper stickers and t-shirts nonetheless. In one case, an anti-war group uses a quote of Abraham Lincoln which was actually from an episode of ST with a pseudo-Lincoln.
Rittenhouse Archives released TOS Quotables in March, 2004. The base set was 110 cards. Unlike most sets, these cards have two *fronts* One large image on each side with the quote underneath. This let Rittenhouse use 220 quotes. The images on these cards are spectacular in color, clarity and in the portion of the scene selected. The font size and font color can make reading the quotes difficult for some.
There were both US and International boxes/cases produced for this set. The table below lists the differences between the two. This set was extremely popular and sold out from the manufacturer prior to the release of the set.
Quick Look at the Differences Between US and International Sets
| | |
| --- | --- |
| US Box | International Box |
| 500 cases | 333 cases |
| TV Guide insert odds listed on box | Cptn Women's insert odds listed on box |
| Outer case in black ink | Outer case in red ink |
| | Sticker on front of box |
| TV Guide insert set of 7 (1:40) | Captain's Women insert set of 6 (1:40) |
| Kirk costume card case topper | Rand Costume Card case topper |
Inserts
9 Space the Final Frontier cards, which formed a mural with the opening monologue text.

18 card Quotable Star Trek: The Animated Series Cards subset

9 card Quotable Star Trek: The Comic Book Card set.
US boxes netted collectors a foil TV Guide card, one of seven in the series, featuring a TV Guide cover.
International Collectors got one of six Captain's Women cards showing off some of Kirk's relationships.
9 Starfleet's Finest insert cards, individually numbered to 399 each. Found about 1:120 packs, it took about 2 1/4 cases to get them all.
27 Autograph Cards inserted at two per box. Steve Charendoff, president of Rittenhouse, is also a former SkyBox Entertainment Director. While there, he produced the highly successful TOS One, Two and Three Series. In the years since that product released, he has had successful contacts with actors, like Julie Newmar, that he would have liked to have included in those three series of cards. He approached Paramount who gave their approval for him to mimic the style and look of the SkyBox autograph, done to using the same numbering system, picking up where TOS Three left off. A87 Kellerman and A99 Newmar were limited autographs with quantities between 300-500. All living main cast members signed again for this series. In a twist, most of the cast members were given two or three versions of their autograph card, each with a different quote in the front and back. Many of the main cast members were either limited or very limited and taking into account these variations, a few could be quite difficult to acquire. Shatner was limited to between 3-500 with three variations, making each variation available in either a quantity of 100 or 166. Nimoy is Very Limited at 2-300 with two variations, each limited to 100 or 150. Doohan, Takei and Koenig were limited and each had two variations, making it available in quantities of 150 to 250 each. Barret and Nichols were limited with no variation, making these available in quantities of 3-500. Many collectors either opted not to collect these at all, collect only one of each variation or to try and get it all.
Autograph Variations
A93 Phyllis Douglas. At least two (at the time of this writing(cards were signed "Phyllis Hodges" rather than Douglas.
A101 Eddie Paskey has a version underlined and not underlined.
Walter Koenig signs at conventions a version of his Little Lady quote autograph that uses a different image than the one pulled from packs.
QA1 William Shatner as Captain Kirk (Three variations: "Space…the Final Frontier", "I'm a soldier, not a diplomat", "Only a fool would stand in the way of progress") (Limited)
QA2 Leonard Nimoy as Spock (Two variations: "Live long and prosper", "Fascinating") (Very Limited)
QA3 George Takei as Sulu (Two variations: "Phasers locked on target, Captain." , "May the Great Bird of the Galaxy bless your planet") (Limited)
QA4 Walter Koenig as Chekov (Two variations: "Cossacks" , "…invented by a little old lady from Leningrad") (Limited)
QA5 Nichelle Nichols as Lt. Uhura (Limited)
A6 Majel Barrett as Nurse Chapel (Limited)
QA7 James Doohan as Scotty (Two variations: "I cant change the laws of physics" , "The haggie is in the fire for sure.") (Limited)
Promos
General release P1 given to dealers and distributors
P2 NSU exclusive found in Issue 15 Volume 1, Feb./March 2004
Binder exclusive P3
Misc. Items
1 *From the Archives* Kirk costume card US case topper
1  *From the Archives* Rand costume card international case topper
1 *From the Archives* Scotty costume card as a binder exclusive.
1 2-case incentive card, the DQA1 Lockwood and Kellerman
Dealers received marked archive boxes if they ordered 10 cases of TOSQ. 10 unmarked boxes were put into the run of cases. The boxes had all pack inserted cards except the Starfleet Finest cards. Also the case topper and the binder exclusives are not in this box.
Sell Sheet
Album-with P3 promo and Scotty costume card
Uncut sheets of many of the inserts and base sets of this product are available from the Website.
A Progressive Proof set limited to 25 sets only.
Press Releases
"Live Long and Prosper" or "Space…The Final Frontier." Ask almost anyone in the world where this quote comes from and you will get the answer "Star Trek, of course". No other TV show has created more memorable quotes and phrases that have permeated our culture and language as Star Trek. Now Rittenhouse Archives has gathered more than 200 of the most memorable quotes uttered by Kirk, Spock, McCoy and more and captured them our newest trading card set The Quotable Star Trek: Original Series. Each box of The Quotable Star Trek: Original Series comes with at least 2 autograph cards! Signers include all living bridge crew members: Shatner, Nimoy, Doohan, Takei, Nichols, Koenig and Barrett on an all-new autograph card design. Plus, we have resurrected the classic TOS autograph card design that was introduced in the TOS season collections (1997-1999). New signers for this classic autograph design, which picks up at A86, include Bruce Mars (Finnegan), Julie Newmar (Eleen), Sally Kellerman (Dr. Dehner), Sean Kenney (Capt. Pike), Don Marshall (Lt. Boma) and many others, which will bring the classic autograph collection beyond 100 cards! Each box will contain 40 packs with 7 cards per pack and each box is guaranteed to contain at least one 110-card base set.
Bonus cards for this incredible series include:
The "Quotable" Star Trek: The Animated Series Cards
The "Quotable" Star Trek: The Comic Book Cards
Collectable TV Guide Cover Cards
Starfleet's Finest, Limited Edition Cards
Captain Kirk/"Where No Man Has Gone Before" costume card (case topper).
A Custom-designed album to store the entire collection, including plastic pages, bonus promo card and a Scotty "From the Archives" costume card is also be made available in limited quantities.
Press Release #2
We want to formally share with you some product notes and changes in connection with The "Quotable" STAR TREK: Original Series Trading Cards. First, we have limited our production run to 10,000 total boxes, including 6,000 domestic boxes (500 cases) and 4,000 international boxes (333 cases). Second, we have added two additional autograph cards to the checklist. Lawrence Montaigne (Stonn in "Amok Time") will be signing a single-autograph card in the classic autograph card design, and he and Arlene Martel (T'Pring in "Amok Time") will be signing a dual autograph card, as well. Third, we have included an exclusive Yeoman Rand costume card as a case topper for the international cases. The domestic cases include an exclusive Captain Kirk costume card.