The Complete Animated Adventures Card Set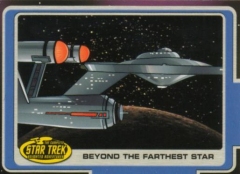 Release Date: March 26, 2003
9 Cards Per Pack
40 Packs Per Box
Production Run-6,000
Set Composition
| | | | |
| --- | --- | --- | --- |
| Base Set-200 | | Doohan Tribute-9 | 1:4 |
| Bridge Crew Cards-9 |  1:8 | Kirk in Motion-9 | 1:20 |
| Micro-cels-22 |  1:20 |  Autographs-12 |  1:40 |
Base Set
For many original Trek fans, the cartoon series was one of the few things to hold onto and watch over and over during the time between the end of the Original series and the beginning of the movies. The Animated Series consisted of 22 cartoon episodes featuring all the cast members except for Walter Koenig. Popular sci-fi writers of the times wrote scripts and many top producers and staff were involved. Though Skybox's Phase Series included some TAS cards, this is the first set of cards devoted to the cartoon and it's about time!
This 200 card set covered every episode over 9 cards with a "high wet glass" finish card stock. Unlike earlier montage layouts, these cards displayed one big image on the front and one smaller image on the back, along with the text.
Inserts
9-card James Doohan Tribute insert set that featured a mural of all the characters he portrayed in the series.

9-card bridge-crew insert displayed all the main characters in a reflective foil finish with details about the character on the back. A 9-card Kirk in Motion set featured scenes of Captain Kirk in Action running, beaming up, firing a phaser.

The most unique of the insert sets is the 22 Microcel set. There is one card per episode, each with an actual film cel from the episode. Each clip is different from each other, some only slightly, some a great deal, allowing collectors to pick and chose the scene they want best to remember the episode.
There were two sericel cards, each hand numbered to 250 and could be redeemed for a unique film strip. RA returns a voided version of the card. (The only difference is a stamped VOID where the address would go on the back) There were also 50 unique production cel cards-each card was an instant winner card that entitled the bearer to an original production cel from the Animated Series. All 50 cards went into the production run. For the completionist, RA offered for sale a complete VOIDED set of the Production Cel cards (all stamped with void on the back).
There are 12 autograph cards in this series, featuring the main cast and staff. James Doohan signed as both Scotty and Lt. Arex and Majel Barret signed as Nurse Chapel and M'Ress,
---
Autograph Quantities:
Nimoy 300
Shatner 500
Doohan 500/500
Barrett 500/500
Nichols 1,000
Fontana 1,000
---
Promos
There were three promo cards for this set. P1 was given to dealers and offered as a general release.
P2 was an NSU exclusive and P3 was a binder exclusive.
As part of a promotion, RA worked with a company to offer 5 sets of FOIL Animated Series cards. These 5 sets would consist of 198 cards on a foil card stock. The company broke these cards into 9-card lots and listed them on Ebay. Collectors and dealers responded negatively to this move by RA and after listening to everyone's complaints, RA announced the auctions would be discontinued and increased the number of sets to 500. Dealers were offered sets based on the number of cases ordered. The fronts and backs of the cards are the same, the only difference is the foil/reflective board they were printed on.
Misc. Items
A 3-card lenticular case topper featured the Enterprise in Motion. These cards came in a sealed pack.
Each box contains a die-cut CDROM. The CDROM's feature 5 different images, but contain all the same material. These include wallpapers, screensavers, information about the series and an interview with DC Fontana.
An Animated Series binder included an exclusive autograph card of George Takei and the P3 promo card.
30 Archive boxes were produced. 15 boxes were labeled on the outside and 15 were labeled on the inside only. An archive box has a complete set of cards inside…..all commons, all inserts, all autographs, 2 sericels and a voided production cel set.
RA's website offered the opportunity to purchase Progressive Proof sets. When the printers are gearing up to create the cards, several sheets are fed through with only one active color of ink to allow the printers to make sure the ink is the proper color and is applying evenly to the crudest. The colors are cyan, magenta, yellow and black. 30 sets of these sets were packaged for sale.
Sell Sheet
Press Releases
From RA's website:
This 198 card series will cover all 22 episodes, with 9 cards per episode printed on 20 point stock with high "wet" gloss UV coating.
Expanding this huge base set will be several chase levels to highlight the true uniqueness of this animated show. First is the James Doohan Tribute found one in every 4 packs which features all of the great characters that Mr. Doohan provided voices for. Next is the The Enterprise Bridge Crew found one in every 8 packs. Sure to be a hit is the Captain Kirk IN MOTION™ lenticular cards found one in every 20 packs. The most unique chase card will be the Star Trek Micro-Cells featuring authentic pieces of film. There are 22 different cards, one for each episode and each card will contain two unique pieces of actual series film. No two card will be exactly alike. Collectors will find two of these cards in their 40 pack count boxes.
Of course no Star Trek set would be complete without authentic hand-signed autograph cards and this set is no different. Look for randomly inserted autograph cards from William Shatner (Captain Kirk), Leonard Nimoy (Mr. Spock), Nichelle Nichols (Lt. Uhura), Majel Barret (Nurse Chapel), James Doohan (Scotty and Lt. Arex), George Takei (Lt. Sulu) and more!
Collectors will also have a chance to win original production cells used in the making of these classic episodes as well as limited edition sericels. Collect letter games pieces to spell "PRODUCTION CEL" to win one of 50 different original production cells used in the making of the original Star Trek animated TV series. Spell "ENTERPRISE SERICEL" to win one of 250 sericels featuring the U.S.S. Enterprise NCC-1701 or spell "KIRK AND SPOCK SERICEL" to win one of 250 sericels featuring Captain Kirk and Mr. Spock.
A must for any Star Trek Connoisseur!!!!
**First press release**
A Message from www.scifihobby.com
For Immediate Release
Contact: Steven M. Charendoff @ 215-884-2410
March 3, 2003
The Complete STAR TREK: Animated Adventures
trading cards to debut on www.eBay.com
JENKINTOWN, PA – Rittenhouse Archives is teaming with eBay to offer collectors a sneak peak at the much-anticipated new trading card release, The Complete STAR TREK: Animated Adventures.
Beginning Monday, March 3, collectors visiting the SciFiHobby Direct store on eBay (members.ebay.com/aboutme/scifihobby_direct) will be able to bid on extremely rare Foil Preview versions of The Complete STAR TREK: Animated Adventures trading cards featuring scenes from the classic 22-episode Saturday morning series. In total, Rittenhouse Archives will make more than 100 exclusive 9-card preview sets available for eBay bidding in preparation for The Complete STAR TREK: Animated Adventures' release to retail and specialty stores beginning March 26.
"We're excited about the impending release of The Complete STAR TREK: Animated Adventures. It's the first-ever set dedicated to this classic animated series, we wanted to share that excitement with collectors and Star Trek fans through these special preview events on eBay," said Steven Charendoff, president of Rittenhouse Archives.
The eBay Preview cards feature the 198-card base set (nine cards from each of 22 episodes) from The Complete STAR TREK: Animated Adventures. The preview cards have been printed on foil board available exclusively on eBay, and each 9-card set is sequentially numbered (1 of 5, 2 of 5, etc.), creating a unique collecting opportunity for Star Trek fans.
To follow the action, visit http://members.ebay.com/aboutme/scifihobby_direct. For more information on The Complete STAR TREK: Animated Adventures and all of the great products from Rittenhouse Archives, visit www.scifihobby.com or your local trading card retailer.
Collectors will also have a chance to win original production cels used in the making of these classic episodes as well as limited edition sericels. Look for instant winner cards to win one of 50 different original production cels used in the making of the original Star Trek animated TV series. Each of these cards will be unique with an image of the cel that you have won. Also look for instant winner cards to win one of 250 sericels featuring the U.S.S. Enterprise NCC-1701 or one of 250 sericels featuring Captain Kirk and Mr. Spock.
UPDATE ON ANIMATED PROMOS
The planned sets of Preview cards limited to 5 has been canceled. The sets will be sold to dealers based on how many cases they order: 1 set/case.(500 sets total on holofoil stock) All current auctionnes will be canceled and the winners of auctionnes that closed before they could be canceled will be compensated for their troubles. Here is the press release:
A Message from www.scifihobby.com Due to the overwhelmingly negative sentiment to our recent announcement about offering a total of 5 Foil Preview sets for our upcoming "The Complete Star Trek: Animated Adventures Trading Cards," we have decided to cancel the program as it was originally presented. Fortunately, these cards had not yet been printed or disseminated to any dealers or collectors. We would like to make this kind of program work in some positive fashion, however, and to that end, we are looking for some immediate feedback — i.e. by the end of the day today, 3/10, if possible. Here are the options, as we see it: 1. Create a series of 500 Preview Sets and allocate them on a 1:1 basis to our dealers, depending on how many cases you actually ordered of this Star Trek product. Thus, if you ordered 3 cases, you could purchase 3 Preview Sets. Cost of these sets would likely be in the $30 range (wholesale). There are only 500 cases of the finished product, which is why there would be only 500 Preview Sets (1:1). In this scenario, only our wholesale customers would have access to these sets. Rittenhouse would not sell them to collectors. 2. Kill the whole thing, bury it and leave the grave unmarked. Please get back to us asap with your thoughts. "I want to let all of our customers understand that we never intended for this situation to engender any amount of ill-will," said Rittenhouse President Steve Charendoff. "Our goal was to partner with ebay in a way that would generate greater interest in our products — plain and simple. This was never designed to be simply a 'for-profit' endeavor, and with our costs in working with ebay, it was doubtful that we would have made anything on it, apart from any promotional value (which was our only real interest). Furthermore, it is absolutely NOT our goal, or desire, to compete directly with our own wholesale customers." Please give us your feedback, and again, we apologize for the perception that was created by the original program with ebay. Thanks for your continued support of Rittenhouse, as we try to continue to support you, our valued customers.