Nemesis Card Set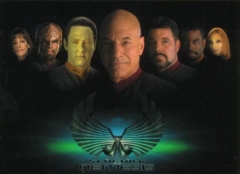 Release Date: November 20, 2002
9 Cards Per Pack
40 Packs Per Box
Production Run-10,000
Set Composition
| | | | |
| --- | --- | --- | --- |
| Base Set-72 | | Technology-8 | 1:4 |
| Romulan History-27 |  1:3 | Casting Call-7 | 1:40 |
| Auto cards-25 |  1:20 | | |
Base Set
On December 13th 2002, Nemesis opened on the big screen. And, as with all the other Trek movies, a card set produced in it's honor. Card collectors were able to get a couple of sneak peeks in advance of the movie's release. The first came in the Enterprise Season One card set released earlier in the year. Five different box-toppers were packaged inside the boxes. The cards came in sealed plastic with a cardboard backing covering the front of the cards, The second peek came with the full set of trading cards for Nemesis, released in late November. Collectors who didn't want this in-depth sneak peek, had to sort cards with their eyes averted or risk having parts of the movie exposed. The common set included 72 cards with one large image on the front from the movie and subsets such as action shots, quotes and behind the scenes. Besides the hobby boxes, boxes also appeared in some retail outlets, such as K-mart, but didn't differ from the hobby box. The production run on the hobby boxes was 10,000.
Inserts
8 Technology cards, covering 8 different pieces of 24th Century Technology, similar in style to the Enterprise One technology cards.
27 Romulan History cards took a look at the Romulans from all along the Trek timeline from TOS to Voyager.
7 Casting Call cards featuring the main cast of the Nemesis movie on a partially clear plastic card.
There were 26 autograph cards broken down into two main categories. The first was autographs from the movie's stars and guest stars. Brent Spiner signed two different cards, one as Data and the other as B-4, each limited to 250. The cards are numbered the same so collectors can get one or the other and not see an obvious hole in their collection. Collectors finally got the one thing they had been clamoring for, Michael Dorn as Worf's autograph! This set is the first time his autograph has appeared on an official autograph trading card. The second autograph subset included autographs of notable Romulans from all the various Trek series. Stewart, Dorn, Katsulas and Linville were limited to 500.
---
Andreas Katsulas was noted to have some of his cards available at conventions. Rittenhouses confirms and says: Often, stars will keep a handful of the blank autograph cards that they are given to sign (with our permission) for their personal use. The main thing to keep in mind regarding these autograph cards is that they are not normal trading card size of 3 1/2 x 2 1/2 inches. All of the cards are slightly oversized and will not fit into a normal 9-pocket sleeve, toploader or screw-down holder.".
---
Autograph Variations
Autograph Card RA3, Malachi Throne, signed in both thick and thin pens.
There are several variations of the Judson Scott autograph card, both one line and two line versions and with or without the Romulan Greeting, Jolan Tru!.
Sighting of Marina Sirtis in black ink, but unknown if pack inserted.
Promos
5 promo cards appeared in boxes of Enterprise One as box toppers.
P1 sent to dealers and general release
P2 found exclusively in NSU magazine, Vol. 13, No. 6.
P3 was a binder exclusive.
Wallace Theatres sets included 6 promo cards given out when a gift certificate to their theatre was purchased. They came in a large envelope. Rittenhouse also made sets available as part of a mail-in offer. If a collector sent in 10 wrapper, they got a sealed pack of all 6.
Misc. Items
On June 20, 2003, an 18-card Expansion set was released. of CGI effect shots that weren't ready at the time of the card set's release. It also included one costume card of Riier. Though early artwork reflected a gray costume card, the actual card is a black swatch. Actor (and Xmen producer) Brian Singer was to sign for the set, but didn't return cards in time for the set's release. A card had already been printed and numbered NA11, but the card is not available in packs. A small cardboard note was inserted into boxes as way of an explanation to alert collectors to the missing card, After the set's release, the autograph cards became available as an incentive when purchasing 5 sets.
Rittenhouse introduced a new concept with this series, the Archive box. Randomly inserted into the cases were specially labeled boxes that included a complete set (minus any binder exclusives) of cards. This included all inserts, all promos and all autograph cards. There were 35 of these boxes in Nemesis. Twenty could be identified by the sticker on the outside of the box, the other 15 could only be identified after the box was opened (by a sticker attached to the inside front cover. This difference allowed a chance for a collectors to acquire one as the dealer wouldn't know it was an archive box.
Progressive Proof Set-limited to 25.
The binder included a P3 promo card and an RA04 Lawrence autograph.
Sell Sheet
Retail box (has sticker on the front) Insert insertion ratios are the same except no box topper. The odds for rarer autographs is likely to be alot less as welll.
The case topper was a costume card from an Original Series Romulan costume from the episode Balance of Terror. All the case topper costume cards have some of the blue from the costume on the swatch. Though the amount of blue may vary a bit, there are no other variations. A Movie poster card, MP1, similar in style to the Casting Call cards was included with the costume card in a sealed pack The Movie Poster cards are hand numbered to 999. On the forums, it was noted that 999 is a large number to fill the needs of the available cases and Rittenhouse had this to say' "With respect to these extra cards, part of the numbering scheme is to keep the numbers at levels that are "comfortable" to most collectors or in sync with the property. 777 for Bond just made sense because 7 is a number so closely tied to the character. For Nemesis, we felt that 999 is just better than 833 (which is awkward).
Yes, we do maintain extras of all of these kinds of cards for exchanges, shortages in some cases, damage, etc. We also must have extras to send to our licensors, who are contractually owed samples of everything we make. In some cases that number can be large. In some cases, like with Star Trek, we also make additional cards available to the actors for their personal use, which means that we must have extras on hand. And every once in a while, one of the actors might call and ask for a pile more, which we try to oblige." (10/14/2002)
Press Releases
Michael Dorn (Worf) and Ron Perlman (Viceroy) have agreed to sign trading cards as part of our upcoming Star Trek Nemesis trading card series, scheduled for release in November '02. Dorn's signature cards should be among the most prized this year — for ANY card set published by ANY company — because he has never been an official signer before. In fact, he is the last of the "classic" Trek actors (i.e. non-Enterprise) to become an official signer. "We are really, really pleased to be able to put Michael Dorn at the top of our list of signers for this new movie card set. I've had all of the other starring cast members sign cards for past projects," said Rittenhouse President Steve Charendoff, "but never seemed to be able to connect with Michael…until now." Genre star Ron Perlman, who is most known from the popular series "Beauty and The Beast" among other well-known TV shows and films, will also be among the key signers for this new Star Trek movie card set. "With both Michael and Ron on board, we are off to an incredible start. Theirs will certainly be 2 of the most collectable signatures in the hobby, and both obviously transcend this one Star Trek film." More signers will be added in the weeks and months ahead, and a complete list will be published over the summer. (from RA Newsletter)
STAR TREK NEMESIS EXPANSION TRADING CARD SET Coming: 06.18.2003 Buy It Now This (inter)stellar expansion set features 18 brand new cards with possibly the all-time best CGI, special effects action from any Star Trek series. Lots of great images of the Enterprise ship, alien ships and more. Plus, we've created a Commander William Riker costume card with uniform material worn by Jonathan Frakes in Star Trek Nemesis. And, if that's not enough, for every 5 Star Trek Nemesis Expansion sets ordered, we will throw in a FREE Bryan Singer (X-Men director) autograph card (N11). Singer was originally scheduled to have his signature card included in our original Nemesis card set, but they arrived too late. Only about 200 of these signature cards were signed. The Star Trek Nemesis Expansion Set is limited to only 999 sets. Although a grey outfit was used in the press release,  the actual fabric is black.