Women of Voyager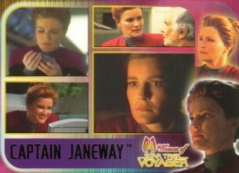 Release Date: August 24, 2001
6 Cards Per Pack
20 Packs Per Box
Production Run-8,000 Boxes
Set Composition
| | | | |
| --- | --- | --- | --- |
| Base Set-70 | | Morfex-9 | 1:4 |
| Reflectifex-9 |  1:10 | Spacefex-6 | 1:20 |
| Costume Cards-2 |  1:120 |  Autographs-20 |  1:10 |
| Sketchafex-13 |  1:120 | | |
Base Set
Rittenhouse Archives was awarded the Star Trek card license for Voyager and was finally free to make a standard sized trading card set. They began in August of 2001 with Women of Voyager, a holofoil card set of 70 showcasing the Female Cast and guest stars. The layout differs from other card sets in that it features 5 or 6 smaller images of the character on each card. The foil technology makes the basic set really stand out from other common sets, but does make it a tad darker and less sharp, a side effect of the foiling process which Rittenhouse hopes to correct in the future. The set was slightly delayed from March to August and was sold out well before the release date.
Inserts
A parallel set for the 70-card basic set. Called a Printer's Proof, these cards do not have the foil effect, have a gold foil stamp and have different backs.
MorFex set- a set of 9 cards where the main female crew is seen as an alter-ego or parallel character. It consists of several small images on a die-cut card. Each card also has a trivia fact at the bottom.

The Reflectifex cards are a 9-card spotlight of Janeway, Torres and 7 of 9 with thoughts by other main crew members.The cards are also die-cut with a trivia fact on the back.

The Artifex cards, originally a set of 8 reproduced artwork, made especially for this set, was dropped down to only 2 cards and made into a case topper. They were in a sealed pack with the exclusive case topper auto card. These are limited to 999 each.

Six Spacefex cards were added to the series to balance the loss of the other Artifex cards and were found 1/box. The cards are die-cut like a view screen and shows shots of ships seen on Voyager. The only text on the back is the name of the ship. 

Two costume cards, one of Janeway and one of 7 of 9 were inserted into packs. The Janeway card was found in maroon or black. A very small number of dual-colored Janeway cards exist, but were not inserted into packs as a seam made the cards bulge too much for insertion.
There were two types of autograph cards. The first was a series of 15 autographs of various guest stars. They feature a small image on a white background. The other was a subset of Landscape autographs centering around 7 of 9 and characters important to her storyline.  Except for Gwenyth Walsh and Jeri Ryan, all the actors are first-time autograph signers for a Trek series.
The final series of inserts is the SketchaFex. These hand-drawn cards were designed by 4 different artists. They vary in rarity from 125 to 400.
Chris Bolson
Voyager (from above)     400
Voyager (from below)     200
John Czop
B'Elanna             275
Seven of Nine     125
Kes                     300
Emir Ribeiro
B'Elanna         200
Seven of Nine 200
Warren Martineck
SS Raven                                125
USS Voyager                           125
Borg Tatical Cube                    125
Borg Queen Ship                     125
Voyager vs. Borg Queen Ship 125
Voyager vs. Borg Cube            125
Sketchcard Variations
There are many variations within the main 13 images…variations in backgrounds, signature of artist, title of card or layout of ships. A list of obvious variations is noted on the checklist section.
John Czop's sketches include color variations in his signature: 7 of 9 -purple and black. Kes-black, orange purple, pink, red, green.
Warren Martinek had some variations in the wording of the titles of some of the cards.
Promos
Two unnumbered promo cards of Janeway and 7 of 9. (Janeway is less common) were offered for general release.
Unnumbered binder promo card of Janeway, Torres and 7 of 9.
Misc. Items
Series of Inked and colored versins of the sketchcards found in the packs and a few that weren't released at all.
WofV Sketchafex Card of 'Borg Cube' by Martineck in Black Ink Points: 3000
WofV Sketchafex Card of 'Borg Queen Ship' by Martineck in Color Points: 3000
WofV Sketchafex Card of 'Voyager vs Borg Cube' in Black Ink Points: 3000
WofV Sketchafex Card of 'Voyager vs Borg Queen Ship' in black ink Points: 3000
WofV Sketchafex Card of 'SS Raven' by Martineck in Black Ink Points: 3000
WofV Sketchafex Card of 'USS Voyager' by Martineck in Black Ink Points: 3000
WofV Sketchafex Card of 'USS Voyager' by Martineck in Color Points: 3000
WofV Sketchafex Card of 'Kes' by Czop with colored background Points: 2000
WofV Sketchafex Card of '7 of 9' by Czop with colored background Points: 5000
WofV Sketchafex Card of 'Torres' by Czop with color Points: 5000
WofV Unreleased Sketchafex Card of 'Alixia' by Martineck Points: 1500
WofV Unreleased Sketchafex Card of 'Daelen' by Martineck Points: 1500
WofV Unreleased Sketchafex Card of Seven of Nine by Monte Moore Points: 5000
WofV Unreleased Sketchafex Card of Torres by Moore Points: 5000
There was also some pink Martinek sketch versions.
Binders-with exclusive A2 Hower autograph card and promo.
Sell Sheet
Rittenhouse also offered collectors a chance to get what is called a Progressive Proof set. These extremely limited series of cards consists of 4 sets of cards in the primary colors used to produce a completed card. Prior to starting the production run, several sheets of cards are printed with only one of the colors to make sure the color is accurate and covering the plate. This produces sheets in cyan, magenta, yellow and black. 25 of the different colored sheets are created, cut and packaged for the collector who wants a different sort of card set. (See the Animated card set for a scan of these cards) These sets are available for many of RA sets in the 2000's, but stopped being available for later sets.
 A3 Vanessa Branch autograph Case Topper
Press Release
Rittenhouse Archives and www.scifihobby.com are pleased to announce that both The Women of Star Trek Voyager HoloFEX trading cards and Hercules: The Complete Journeys trading cards are now available on a pre-sell basis online at www.scifihobby.com. The Women of Star Trek Voyager HoloFEX trading cards feature 2 autographs in box, plus randomly inserted costume cards of Seven of Nine and Capt. Janeway and hand-drawn sketch cards. The 72-card base set is unlike any other Star Trek set ever. Each card will be printed on thick, holofoil card stock, with gold-foil stamping and super glossy lamination. These base cards are superior to most, if not all, bonus cards in any of the past Star Trek sets. There will also be multiple photos of each featured character on each card (Manufacturer's note: In order to clear up any misconceptions about this product, these cards are not lenticular or motion cards. Also, all cards are standard 2-1/2″x3-1/2″ size).
Several customers have asked about the list of autographs for this product. We are extremely pleased to tell you that — with the exception of Jeri Ryan — there are NO repeat signers from past Voyager trading card series. The list includes Sharon Lawrence (Amelia Earhart), Virginia Madsen (Kellin), Lori Petty (Noss), Martha Hackett (Seska), J. Paul Boehmer (29th Century Borg, "One"), Laura Stepp (Erin Hansen, Seven of Nine's Mom), Katelin Peterson and Erica Lynne Bryan (both played Annika Hansen, young Seven of Nine), and several more. The autographs are broken into two separate groups: (1) The Seven of Nine Autograph Series, which includes Jeri Ryan and several actors whose characters are closely associated with Seven of Nine (that explains how we squeezed in a couple of guys into this collection), and (2) The Women of Star Trek Autograph Series. Also, please be aware that we have received a commitment from Viacom for costumes worn by Jeri Ryan and Kate Mulgrew, and their costume cards will be randomly inserted throughout the series. Once we have a final tally as to the number of costume cards we can produce from these costumes, we will issue another message informing you of the insertion rate. (Based on past experience, it is likely that we will be able to insert these at a rate no less frequently than 1:100 packs, but this is only speculation at this time.)
***
From Rittenhouse: Many thanks for your patience while are completing the upcoming "Women of Star Trek: Voyager HoloFEX" Trading Cards. As you may already be aware, due to circumstances beyond our control, we have had to move back the release date of this series until early August. We regret the inconvenience, but do believe that your faith in this product — which has been sold out for several weeks — will be rewarded upon its release. A few other points to note about this card series:
1. The case topper will consist of an autograph card signed by Vanessa Branch (who played the grown-up Naomi Wildman) and 2 ArtiFex cards (Seven of Nine and B'Elanna Torres) that were originally scheduled to be inserts within the packs. These were the only 2 pieces of artwork that could be completed in time for this project, and this new direction makes more sense.
2. The binder autograph card will be signed by Nancy Hower, who played Ensign Wildman.
3. The 9-card ArtiFex bonus set will be replaced by a 6-card "SpaceFex" set featuring incredible CGI special effects images through a die-cut view screen. These will be inserted at 1:20 packs.
4. The MorFex and ReflectiFex bonus sets will also be die-cut.
5. The base cards will feature 6 different photos apiece, yielding more than 400 total images in the base set alone! The base set will also consist of 70 cards, rather than 72 as originally published.
6. The costume cards just came back from our printer, and they look awesome!
7. As promised, there will be NO (i.e. zero, zip, nada) redemption cards in this product (or in any other, if we can help it). All of the autograph and costume cards, in particular, are in-house and waiting to be packed out.
As we get closer to the release date, we will have more specific shipping information. Once again, thanks so much for your patience.