Trek in Sound and Motion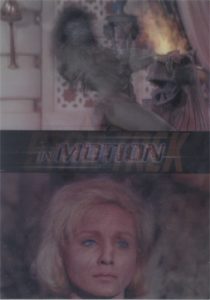 Release Date: September, 1999
3 Cards Per Pack
24 Packs Per Box
8 Boxes per Case
Production Run-8,000 Boxes
Set Composition
| | | | |
| --- | --- | --- | --- |
| Base Set-96 | | Sound Cards-6 | 1:20 |
| DeForest Kelley Cards-3 |  1:160 | | |
Base Set
Steve Charendoff left SkyBox in January of 1999. Not one to stay idle, he formed a company called Rittenhouse Archives and secured the license for a new line of Star Trek cards. His first Star Trek release is entitled "Trek in Motion" and features 5 x 7 cards with full color, full motion lenticular images. This set featured the Original Series and covered 12 episodes, 2 cards per episode for a total of 24 cards in the basic set. SkyBox held an exclusive license to standard trading cards. For this reason, Rittenhouse could only make cards larger or smaller. The lenticulars, when stored in pages, can stick to them and be diffucult to remove.
Inserts
Six sound cards as box toppers. The Sound Cards, like several other sound cards released in the past, were made like a thin cardboard box with a lenticular card front and a back applied to both sides. When pressed the card can produce 10 seconds of text or music. Similar sound cards were made for Gone with the Wind, Abbott and Costello and Chopper Chicks from Mars. Though sandwiched in a Styrofoam cut-out piece and two other pieces of foam at the bottom of the box, many UPS drivers reported the boxes 'talked' to them as they made their deliveries. Many collectors also noted it was possible to tell what sound card was in a given box by giving it a squeeze. Some collectors were put off by the fact that the sound cards reused images from the common set. The cost involved in printing another sheet to accommodate the sound cards were prohibitive for a company just starting up.
---
It is possible to replace the batteries as they are easily accessible.
---
As a surprise, Charendoff inserted 3 DeForest Kelly Memoriam cards into the packs. These cards were the same size as the lenticulars, but were on regular card stock and were gold foil embossed. They were limited to 500 each and were hand numbered. They were inserted at about 1 per case, making only 333 sets available in cases. The rest were set aside for damaged cards and promotionals. As with many of the Charendoff card sets, the images on these cards are exceptional and make a fitting tribute to the Dr. and the actor!
Promos
A set of 24 promo cards was also released. 500 of each card in the common set. The backs were blank except for some copyright information and the words 1 of 500.
Misc. Items
Case Topper Sound Card
The binders were limited to 999 and included all the pages needed to store the cards and an exclusive sound card.
Sell Sheet
Blank backed card (except for the words 3M and Matchprint Productions on the back). It is uncut (no rounded corners). Possibly a prototype.
Press Release
June 11, 1999 – Elkins Park, PA – Steve Charendoff today announced the formation of Rittenhouse Archives, Limited, a new entertainment collectibles company. Rittenhouse will initially create and market its own hobby-exclusive line of licensed Star Trek and Twilight Zone trading cards and collectibles. Charendoff, formerly the Entertainment Director at Fleer/SkyBox, will serve as President of Rittenhouse Archives and run its day-to-day operations.
"This is an extremely exciting time to be launching a new hobby business. There are so many positive changes taking place in this market with collectors pursuing newer and more innovative products in different formats," said Charendoff. "Science fiction, in particular, leads the entertainment category, and Star Trek continues to be one of its most enduring and successful properties. I look forward to continuing the excitement I helped to create with Fleer/SkyBox's Star Trek: The Original Series trading card series through Rittenhouse's line of new and innovative Star Trek and Twilight Zone products."
Rittenhouse's first product will launch in September with Star Trek: The Original Series In Motion, the first-ever all-lenticular Star Trek card series which will feature 24 different cards in its base set, plus 6 Sound In Motion audio cards. Each card in the series measures 5″x7″ and features multiple lenticular (or motion) sequences.
"The combination of multiple lenticular scenes makes these cards incredibly dynamic," said Charendoff. "And the addition of 10-second sound bites will make the Sound In Motion cards even more dynamic. The response to this product in my research and discussion with Star Trek dealers and collectors has been overwhelmingly positive."
Star Trek: The Original Series In Motion will be limited to 8,000 sequentially numbered boxes, and is believed to be the most limited hobby product ever created for the sci-fi classic. Each box will contain 20 packs, with one Sound In Motion card included as a box topper. Each pack will contain 3 lenticular cards with a suggested retail price of $4.99 per pack. A custom album will also be available, complete with plastic sheets to house the entire set.
After Star Trek: The Original Series In Motion, Rittenhouse will follow in November with the first-ever trading card series based on the original Twilight Zone TV program. Rittenhouse will include in every box an average of 2 autographs from 12-15 leading stars who appeared on the classic sci-fi show. Autographs will include William Shatner, Rod Taylor, Kevin McCarthy, Bill Mumy, Anne Francis, Earl Holliman, Vera Miles, Martin Milner, Richard Kiel and other top stars.
"The Twilight Zone is without question the greatest science fiction program never to have appeared on trading cards – until now," said Charendoff. "The reason is that CBS simply never had the rights to use the actors, but that is changing. I have had overwhelmingly enthusiastic responses from all of the actors contacted to date, and we are going back and remastering the original films to create the most visually stunning card set possible.
"The insertion of 2 autographs in every box of The Twilight Zone cards also breaks new ground in the entertainment hobby market. These are not autographs for the sake of autographs, but signatures from some of the most prolific Hollywood actors, and the quantities of these autographs will be plentiful enough for dealers and collectors to find any one card and to build complete sets without going broke."
Rittenhouse's The Twilight Zone trading cards will be printed in a traditional, 2.5″x3.5″ format and come in packs of 9 cards for a suggested retail price of $1.99. Each 36-pack box will average 2 autographs, and the entire production run is estimated at 5,000-6,000 boxes.