Miscellaneous SkyBox Cards
---
Not a card, but funny 😉 SkyBox issued a press release on how to store their cards.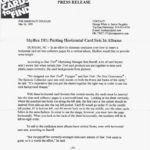 ---
Starfleet Collection Card Set
In 1993, SkyBox made a set of 6 cards with images from the TOS movies. There were 3 regular and 3 holographic cards. The hologram cards are the best ones to date. Ken Baroff reports Paramount spent extra money to get the best quality, something not as practical for normal card sets. The cards are found in a set of 6 letterboxed videotapes limited to 5,000. It comes with a black plastic box that opens with a key. This set retailed for $200 in 1993.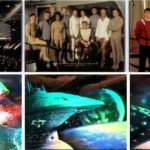 ---
Champions In Action Uncut Sheet
SkyBox offered a mail-in Champions in Action uncut sheet of 9 cards in 1996 for $4. This uncut sheet featured several of SkyBox's product line, one of which was similar to a Kirk card from Phase II.
---
Hostess/Frito-Lay Card Set
In 1993, Hostess/Frito-Lay ran a ST promotional with a set of mini-cards produced by SkyBox. These cards were inserted in specially marked chips in Canada. The mini-cards were similar in appearance to the Inaugural Edition card series from 1992. The set consisted of 38 TNG cards, featuring characters, ships and equipment, 2 checklist cards and a subset of 10 DS9 character cards. There were also 10 insert-type foldout cards. These deceptively small "insert" cards unfold quite a bit (2 feet) to reveal scenes from the titled episode. Backs have text in both French and English.
Also included in random bags were redemption cards for prices which included Videos, Posters, Autographed cast plaques, Fan club memberships, Watches, Mountain Dew drinks, KFC meal coupons and full size trading card sets.
Drivers and store managers were given a presentation binder/folder which opened to reveal a complete 50 card set. The cards were mounted in slots. Most of the ones available these days are of lesser quality since the card stock is easily creased and bent.
---
Official Fan Club Card
OFC 9-card sheet For members joining the Official Fan Club in 1994 (and for the next few years), the membership packet included an 8″ x 11″ sheet of nine perforated cards 1994. This sheet, produced by Skybox, showed images from various ST series and could be separated into single cards. The backs read "The Official Fan Club welcomes you as a member"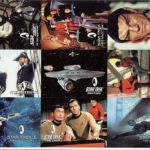 ---
Blockbuster Lenticular Set
Blockbuster video stores offered as a promotional a set of 4 lenticular cards in 1996. Collectors could buy $5 worth of ST merchandise and get one of the 4 cards each week. The cards featured a lenticular image of each series' ship (or station in the case of DS9). The back of the card features one of each of the Captains. At one point, there was discussion of a variation that did not have the Blockbuster logo on the back, but Ken Baroff says the only version of Lenticulars was for Blockbuster and none without the logo should exist.
---
Waldenbooks Promo Pack
Waldenbooks and SkyBox offered, in 1994, a cello pack of 4 TNG cards to people who purchased a ST book. The backs of the cards were checklists of all ST Pocketbook titles
---
Huntsville Convention Passes
In 1996, at the Huntsville, for the ST 30th Anniversary convention, a Galaxy Class and Constitution pass was created by SkyBox. This oversized card was laminated and the ticket holder's name was imprinted on the back. The pass had a hole for a chain to pass through and was worn around the neck. Though not really card, since it was produced by SkyBox, it is included here.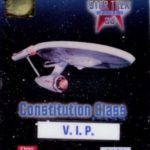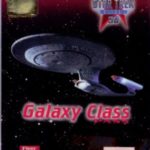 ---
TOS Episode Video Cards
SkyBox produced a set of cards for videos that Paramount released in 1993. The packaging was blue. Most, but not all had a pink sticker on the front mentioning the card if it was included. The videos were released in 1993 and though some sources place the sets to 5,000, another article puts the total at 3800 sets. Both are unconfirmed numbers. The set is 80 cards, one per episode with two cards dedicated to the Cage. One is entitled The Cage and the other is the Cage, All Collectors' Edition. The 80th card is numbered 99. The front of the cards show a scene from each episode and the backs list the airdate and stardate and a synopsis of the episode. These cards have been bouncing around in tape boxes for a few years and occasionally have some rough edging or an imprint from the tape itself.
Complete and mint sets showed up on Ebay making this set much easier to collect.
---
TOS Card Game
Release Date: 1996
307 Cards in the Set
8 Cards Per Pack-Booster
60 Cards Per Deck-Starter
36 Packs Per Box-Booster
12 Decks Per Box-Starter
For a brief period of time, two different companies were creating their own brand of card games based on Trek. When Decipher began creating their CCG, SkyBox owned the gaming license for TOS and the first 7 movies. Decipher could produce TNG, DS9 and Voyager (and TOS characters when on another series), but they wanted to produce all Trek gaming cards since SkyBox, at the time, wasn't actively pursuing a gaming line. SkyBox stated publicly that Decipher's rights to produce CCG's was a *carve out* of SkyBox's license and they were unwilling to give up their own ambitions for a card game line.
When SkyBox decided they were ready to tackle a CCG, they released TOS the Card Game which covered the first season of TOS. There was some confusion over how many cards are in this set. Initial press releases report the card set at 308. There are actually 306 cards with one info card. Unlike the Decipher game, the main crew was all ultra-common cards. Kirk, Spock, McCoy and the Enterprise were found in each starter deck. The rest of the cards were in varying levels of rarity, Very Rare, Rare, Uncommon and common.
It would seem the TOS CG crew had a sense of humor when making this set. Shortly after the announcement that F/S would hold onto the TOS license, Inquest published a list of cards they thought should be produced by Decipher, but now wouldn't be. In their Inquest issue (Jan. 1996) they ran an article called "Trek cards we will never see". The article shows fake Decipher CCG cards with these titles and images: Red Shirt Syndrome All Spaceways lead to Rome Damn it, I'm a Dr., not a…. Shirtless Kirk, Get off my ship, Mr.!, Home Court Advantage, Direct Hit, Styrofoam Rock Weapon, Commercial Break. I find it terribly funny that not only did SkyBox USE some of these suggestions, but gave Inquest the exclusive Shirtless Kirk promo card for their magazine!
Occasionally, in need of a crew member card, they came across images of crewman who were never given names or identified in any way. Not ones to miss taking advantage of a situation, Steve Domzalski, lead game designer, Ron Perazza and Karen Greene, F/S employees became Lieutenant Steve Domzalski, Lieutenant Ron Perazza and Yeoman Karen Greene. Cheryl Thomas, Thom Parham and Chip Carter, Viacom/Paramount employees became Nurse Cheryl Thomas Lt. Chip Carter and Lt. Thom Parham.
Promos
6 unique TOS Card Game promo cards were seeded into Phase Three packs.
Special common Chekov prototype crew card that will be +1 for all icons if autographed. Available at the 1996 Gen-con and a few other places.
COMBO exclusive #22 Living in the Past (wild) From City on the Edge of Forever.
Star Trek Communicator #109 Arena (Wild) Only available to subscribers.
Inquest #19, Shirtless Kirk (wild) Both subscription copy AND newsstand copy.


---

StarFleet Maneuvers

Release Date: 1996
180 Cards in the Set
15 Cards Per Pack
36 Packs Per Box-Booster
Starfleet Maneuvers was released as an expansion set in 1996. This set covers the first half of Season II and followed a similar style as TOS I. This set initially proved difficult to complete. Many collectors found they all needed the same VR and, oddly, R cards.A sharp eyed collector might notice there are two Tribbles cards, the common version was actually to be a Harry Mudd crew card, but the family refused to allow his likeness to be used, so this card was substituted.
Both TOS the Card Game and SM were overproduced and flooded the market over the years dropping prices to as low as $5 a box.This was the end of the TOS CG line. After putting the Alien Encounters set on indefinite hold, the company finally announced the set was canceled. Pity, Alien Encounters was to provide us with a Harry Mudd card, missing so far due to the estate withholding their permission to use his likeness. Currently, no one remains at SkyBox with any knowledge of the TOS CG game and there are no archives of the product there.
Promos
No promo cards were released for this set.
---
DAS Card Game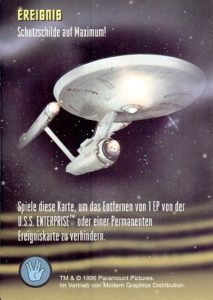 Release Date: 1996
306 Cards in the Set
8 Cards Per Pack-Booster
60 Cards Per Deck-Starter
36 Packs Per Box-Booster
12 Decks Per Box-Starter
Modern Graphics, in cooperation with SkyBox, released a German text version of the TOS CG game, Das Card Game. This card set was similar to the US version except for the language (obviously!!!) and was one card short, as the Ben Childress card was not produced. The image for the "Have Some Tranya" card is a different shot and the Mudd's Women card is missing its title, a misprint found in all cards.  Modern Graphics went to great lengths to support and encourage gamers in this card game and though much more was planned for this series of cards, including Starfleet Maneuvers, the initial release was as far as they got before Fleer SkyBox stopped supporting the game card line.
Promos
Persönliche Herausforderung /Ereignis
Medikit /Effekt

Pokerspiele /Mission

Biem Mich hoch, Scotty jumbo card
Schutzschilde auf Maximum jumbo card
---
An ad slick shows a Jumbo Gorn Captain, but noone has reported actually getting one.
---
Misc. Items
A German TOS CG T-shirt
A German TOS CG sticker
A German TOS CG match box (that looks like a small starter deck)
Full-color bags