Voyager Seasons Card Sets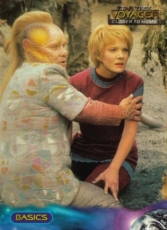 Release Date: Nov 17, 1999
9 Cards Per Pack
36 Packs Per Box
Production Run-
Set Composition
| | | | |
| --- | --- | --- | --- |
| Base Set-100 | | Advanced Technology-9 | 1:4 |
| Captain Proton-9 |  1:8 | Interstellar Species-9 | 1:12 |
| Orange Interstellar Species-9 |  ? |  Autograph Cards-9 |  1:54 |
| Command Lenticular-9 |  1:54 | | |
Base Set
After a break from the episode format, SkyBox released Voyager Closer to Home, a set that squeezes Seasons 3, 4 and 5 into one card set. Some episodes got one card, some three. The last 9 cards of the common set feature a Janeway's Adversaries subset with foil stamping.Boxes had either a lenticular card or an autograph card.
A few issues arose with this set. First, the number of damaged cards was fairly significant. The first 3 or 4 cards in many packs were damaged, likely a production/ packing issue. Making sets is difficult since the same numbers tended to appear at the same place in the pack. Collectors noted that some cards had incomplete summaries, cutting off partway through a sentence, a quality control/editing issue for sure!
Another bone of contention: rather than starting at 191, where Voyager Season II SHOULD have left off, CTH starts at 178. This start point does not take into account any subsets or checklists from Voy II.
Inserts
Advanced Technology foil stamped cards

Adventures of Captain Proton foil stamped black and white cards

Interstellar Species glow-edge plastic cards (written from 7 of 9's point of view).

A surprise awaited collector's one not listed on the wrapper or box…. a parallel orange Interstellar Species set. SkyBox hasn't offered specific numbers for the orange set, but it averages about 2 cards per case. Quite a few after-market copies showed up over the years, though even with that, certain numbers (like IS6) are harder to find.

Command Crew lenticular cards. The cards are individually numbered and limited to 750 each. They feature the main cast, each with a different 3-D background. Though there isn't much motion, the 3-D effect is nicely done.
There is a discrepancy between the checklist and the cards. Card CC3 is listed on the checklist as 7 of 9, Neelix as CC7. On the cards themselves, CC3 is Neelix and CC7 is 7 of 9.
Autographs cards of the 9 main cast members. Kate Mulgrew and Jeri Ryan are autograph redemption cards. Collectors expressed some frustration with redemption cards. A redemption card must be mailed in at a cost of a few dollars for certified mail, there is sometimes a lengthy delay before the card is received and there is always the chance the card will be lost. Any collectors opening boxes after the expiration date runs the risk of getting a card they can not redeem. And, lastly, some collectors have to deal with the decision on whether to keep BOTH cards in their collection, which has the secondary effect of making the autograph cards rarer. Companies are always trying to balance the frustrations a redemption set causes vs. the frustrations a delay in releasing the set can cause.
Autograph Variations
Many of the actors were allowed to keep a number of their blank autograph cards to sign at shows. The usual agreement with the stars was that they had to use colors of pens other then what they signed for Skybox. Robert Picardo, for example, has signed his cards at shows, differentiating them from SkyBox by numbering them xxx/200 and with an embossed seal that says " RAP Library of Robert Picardo".
Promos
A promo card was issued to dealers and found in NSU.
Misc. Items
Binder
Sell Sheet- glossy sell sheet

2 text press release letters sent folded to dealers (Different date on top, one copy says 11/17, the second says "today".)

SkyBox sent dealers some oversized (5 x7) lenticular cards. These cards are similar to the regular cards in the set, except for a small box in the back lower right corner that says Promo # of 3. The dealer incentive for 6 boxes was a Chakotay, a 12 box case also got a Janeway and a 20 box case got the first two and a 7 of 9.
In 2007, a series of auctions were listed on Ebay with redemption versions of many of the cards from TNG Profiles, DS9 MFF, Voyager CTH. Most of these were not inserted into packs as redemptions. Not much is known, except that it's possible that when printing the autograph cards, redemption versions were made at the same time in case needed.