TNG Profiles Card Set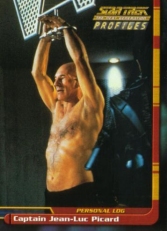 Release Date: July, 2000
10 Cards Per Pack
36 Packs Per Box
Production Run-
Set Composition
| | | | |
| --- | --- | --- | --- |
| Base Set-82 | | Alter Egos-9 | 1:4 |
| First Contacts-9 |  1:18 | Crossovers | 1:8 |
| Q's Quips-9 |  1:36 |  Star Threads-1 |  1/2500 |
| Autographs-19 |  1:40 | | |
Base Set
Released July 2000, this card set makes use of a character emphasis, rather than the usual episode format they completed with TNG 7. The set explored the main characters with a quote or trivia question on the back of the card. The card stock is thicker than in past series, except the checklist card, which is thinner and is an *extra* card in a pack, making those 11 card packs. The images selected and the layout make for a nice-looking set. The common set included Personnel Logs, Starfleet Academy, Family, Romances, Adversaries, Off Duty Moments, Ceremonies and Rituals, Secrets of the Past and Captain's Reviews.
Because there are several difficult to acquire autographs, this set is expensive to put together. There were also lots of cards with crimped corners, frustrating those who like their cards mint. Many dealers struggled to meet commitments for master sets without losing money. This created a lot of tension at a time when SkyBox's license was up for renewal and some dealers expressed this directly to Paramount at the time.
Card 53 contains an uncorrected error, misidentifying O'Brien as Picard on the back text.
Inserts
Alter Ego foil 9-card set featuring the characters as someone else (IE Picard as Loctutus)
Crossover Characters 9-card set with characters who made appearances like McCoy and Spock.
First Contact 9-card set such as the Borg.
The Q's Quips card are cut out in a Q shape (sort of) with a quote for everyone's favorite Q. There were collation issues with the Q's Quips cards with too many Q8 and Q9 showing up in boxes and few Q1– Q3. SkyBox assisted dealers with this issue and such disparities settled down after the release.
The Star Threads card featured an authentic piece of uniform that was worn by Patrick Stewart on the show. The uniform was cut into small pieces Each card is sequentially numbered to 2500. The Star Thread card comes in three variations; an all black piece (most common), all maroon and a black and maroon (least common). There are likely only a few hundred of the bicolor version. Some collectors chase all three uniform variations, though in reality, it is just one card and all three versions together add up to the 2500. The Star Threads cards replaces 2 common cards in a pack.
There are 19 Autograph cards in this set. It includes main crew and various guest stars. 5 of the cards were redemption cards. Though no specific numbers exist for the autograph cards, there seem to be several short run auto cards, like Brent Spiner. Walter' Koenig's autograph card was found more often in the 6-box case options SkyBox had at the time. Koenig reported he singed 125 of the cards. William Shatner's autograph card frequently had a dinged corner.
---
RUMORED auto card numbers: Data*, Crusher, Troi, Chekov=125 Scott, Picard= 125 or perhaps slightly more. Q2, Kirk=125-250, Riker, Lwaxana, Q=250 Other 8 – 1250 each *Data may be only 100
---
Autograph Variations
There is NO embossing stamp on the cards as was done in earlier series. The biggest problem with this is some stars have a certain number of their own cards to sign at shows and it will be difficult to determine which are pack pulls and which are convention signed. Wil Weaton commented at a show that he can not use 'official colors" at shows, which is likely blue. So far all Gates McFadden pack pull cards have been signed in black, the rest of the actors in blue. One collector reported getting a black DeLancie and Sirtis direct from SkyBox as damaged card replacements.
Promos
General Distribution promo card
Misc. Items
Binder
Sell Sheet
In 2007, a series of auctions were listed on Ebay with redemption versions of many of the cards from TNG Profiles, DS9 MFF, Voyager CTH. Most of these were not inserted into packs as redemptions. Not much is known, except that it's possible that when printing the autograph cards, redemption versions were made at the same time in case needed.
In 2015, a collector opened up a box and found in a pack the redemption card for A6 Fionnula Flanagan. This card was not one of the 5 redemption cards for this product, but the card was printed and may have accidentally been in the packs.
Press Release
Autographs and Costume-Worn star Threads Highlight
Star Trek Profiles 2000 includes Cutting-Edge Inserts, Autographics and Even a Piece of Captain Jean-Luc Picard Himself
LAUREL, N.J. – JULY 6, 2000 – Every year Star Trek trading cards gain popularity in the hobby industry and this year is no different. Capitalizing on the hottest trends in the industry, the new Profiles Edition of Star Trek is one of the most innovative sets Fleer has ever developed.
The 82 card-basic set of Star Trek Profiles is an interesting set because it highlights each character in a unique way, and also tells a story. Profiles is a fitting name because the back of every card displays a picture depicting a particular scene, and a story that goes along with the picture. Also included on the back of each card is a quote or a trivia question.
Autographics, the leading autograph program in the hobby today returns and can be found in Star Trek Profiles. All of your favorite characters are included in this star-studded lineup – Captain Jean-Luc Picard, Commander William Riker, Captain James Kirk, Doctor Beverly Crusher and Lietenant Commander Data are just a few of the 19 autographs included in the collection.
The real highlight of Profiles is Star Threads, the insert that gives the collector a chance to own a piece of Captain Picard's actual uniform. Star Threads are inserted throughout the set featuring an authentic piece of uniform that was actually worn by Patrick Stewart on the show. Each card is sequentially numbered to 2500 to ensure the authenticity of the card.
One of the unique insert sets available in Star Trek Profiles is Alter Egos, which portrays what happens when a character becomes someone else. Some of the Alter Egos included are Captain Picard as Locutus in "Best of Both Worlds," Thomas Riker in "Second Chances," and Data in "Masks." These are only a few of the nine different Alter Egos you will come across in this one-of-a-kind insert set.
Another insert set included in Star Trek Profiles is Q's Quips, which is a nine-card precision die-cut series with each card depicting a different Quote from Q. Other inserts included in Profiles are First Contacts and Crossover Characters.
If you are a Star Trek fan or just a card collector you do not want to miss this fantastic set. Fleer offers the most dynamic Star Trek set there has ever been, and it is now available in 10 card packs for $1.99 (SRP).