Insurrection Card Set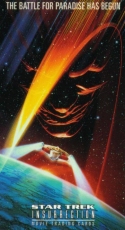 Release Date: Dec 2, 1998
9 Cards Per Pack
36 Packs Per Box
Production Run-25,000
Set Composition
| | | | |
| --- | --- | --- | --- |
| Base Set-72 | | Schematic-9 | 1:4 |
| Wardrobe-9 |  1:4 | Okudagrams-9 | 1:8 |
| Relationships-9 |  1:8 |  Autographs-19 |  1:36 |
| Gold Cards-7 |  1:360 | | |
Base Set
Based on the 9th ST movie Insurrection, this card set released about a week in advance of the movie, helping to whet people's appetite for the movie. Originally, the plan was to combine TNG 7 and the movie in a regular card sized format. However, as the images came in from Paramount, SkyBox realized they would support a stand-alone set. Card #1 is an image of the movie teaser poster, a very nice lead-in into this set. The set offered various subsets including Plot cards, Soundbytes (quotes from the movie), Character Profiles and Alien Races.
Collectors should understand that SkyBox receives their images prior to the movie's release and sometimes changes are made during editing. With this set, the first place where a difference is noted is in the promo card of Picard kissing Anij. The more passionate kissing scenes were removed during editing. Also, Leann Briggs, who has an autograph card and a soundbyte sat down with friends and family at the theater only to discover her role was cut out completely. SkyBox is not always informed of these changes and can not always adjust their sets to accommodate this editing. There are few if any CGI shots in many of the Trek movie card sets for a similar reason. Steve Charendoff reports that "The problem with ALL movie card sets is that the studio will never give access to the special effects images before they are completed, which is usually right before the movie is released. Special effects are the most time consuming element of making a film, and the production company typically works on the effects right up until the last weeks and days prior to release. In making the card set, we have to have our final selections about 2 months prior to the card set release date. Not a good fit. Better if we could put the cards out after the movie, but that would defeat our purpose."
Inserts
Wardrobe cards featuring costume design artowrk
Schematic cards (pre-production artwork on the ships)
Okudagrams (originally called Behind the Scenes).
Relationship cards (originally called Interplay). Limited Gold cards were offered in this set. Originally lhey were to be limited to 200, or 1 in 720 packs, however, a decision was made to increase them to a print run of 400, a number that seemed to balance rarity and price fairly well. Each of these cards is hand numbered XXX/400.
The autograph set features the complete bridge crew minus Michael Dorn, who until 2003, had not yet signed for any Trek card line. Some collectors complained that some of the images on the autographs were not the best shots of characters that weren't all that vital to the movie's plotline anyway. Patrick Stewart was not able to sign his cards in time for seeding into the run and Levar Burton returned his card due to a spelling error in his name. Rather than hold up the release of the product, SkyBox issued redemption cards for these two cards. The redemption cards had the same front, with the word redemption card in place of their signature and a backing to fill out and send off for the signature card. This leaves some collectors wondering if they should collect both the redemption card and the signature card. As with the TOS sets, there are some short printed cards. The first 7 cards are in the 800-1000 range apiece. The others are 1,500-2,000 apiece. It is likely that Burton's and Stewart's autos are closer to 500.
---
Why a Librarian card when there was no Librarian?? SkyBox gets their images from Paramount months before the release of the release date. This is why there aren't any special effects cards. They haven't been done by the time they make their cards! In the case of the Librarian that character ended up on the editing room floor and even the actress didn't know until she went to see the movie with her friends and family.
---
Autograph Variations
Greg Henry signed his autograph card in both black and blue ink.
Promos
One unnumbered promo card was sent to dealers for general distribution.
Misc. Items
Binder
Sell Sheet
LeVar Burton error autograph card (unsigned)
An auction for an Insurrection gold card Picard showed a card numbered to x/200, rather than the usual 400. The card was pack pulled.