Phase Card Sets
Phase 1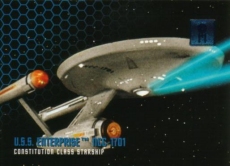 Release Date: 1995
8 Cards Per Pack
36 Packs Per Box
Set Composition
| | | | |
| --- | --- | --- | --- |
| Base Set-100 | | Technology 9 | 1:12 |
| Die Cut-3 |  1:36 | Gold Plaque-9 | 1:72 |
| Skymotion-1 |  1:180 | | |
Base Set
This series of three card sets covered all series of Star Trek…TOS, TAS, TNG, DS9 and Voyager. It was the first set with cards from the animated series, which delighted many collectors. The packs came packaged in a box that opened up to reveal some beautiful artwork on the inside of the box top. Each series would emphasize a few different aspects of the Star Trek legend. Phase One was the first of a three part series. This set emphasized ships and technology and has 100 cards in the common set.
Inserts
The E insert sets included a foil set featuring the same technology in three time periods, TOS, the movies and TNG.

The D card set featured die cut cards, the cards had pieces missing to represent the damage done by different weapons. 

The final subset maddened many collectors, the gold plaque set. At 1:72, the odds of getting all 9 meant opening lots of boxes. The gold plaques were really the first experience for collectors in chasing an insert set that required a large number of boxes to complete. SkyBox admitted they were looking for a "Willie Wonka and the Chocolate Factory" feel when a collector found a gold plaque card. SkyBox tried to soothe frayed nerves when they announced a unique redemption offer; Collect one UPC Code from each Phase One, Two & Three display box and receive an uncut sheet of all gold registry plaques. There was some concern that the cards would be cut up and sold as plaques pulled from packs, so the sheet was created without the numbering system and a different copyright date.
Promos
A two-card promo of the USS Enterprise and a Tricorder card was sent to dealers and passed out at shows.
NSU had an exclusive promo card of the TOS Enterprise in it's Volume 7 No. 1 issue.
Dealers received an uncut sheet of the gold plaques. Only 200 of these exist and some were likely cut up to sell as singles since if cut professionally, there is no noticeable difference between them and the pack pulled cards. These had both the 1995 copyright dates and the numbers.
Misc. Items
30 Years Reflections Of The Future 20″x30″ Poster for dealers to display.
Sell Sheet
Binder
1996, no number, uncut gold plaque sheets
Survey Card
Exchange Card for a SkyMotion Card of the TOS Enterprise at the end of TMP warping into space.
T195 Cinema Ad Card
A large sized SkyMotion was also available by mail order.
Because many boxes were cut up for the UPC code on the bottom of the box, mint boxes, for those who collect empty boxes, became much more uncommon.
Phase 2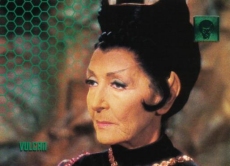 Release Date: 1996
8 Cards Per Pack
36 Packs Per Box
Set Composition
| | | | |
| --- | --- | --- | --- |
| Base Set-99 | | Doppelganger-9 | 1:12 |
| Undercover-9 |  1:18 | Skymotion-1 | 1:180 |
Base Set
This set featured Aliens and Personnel cards. Each series was well represented with character cards and this set became a popular set to use at conventions for autographs.
Inserts
Doppelgangers Foil Set of 9 showed the characters with mirror type people/personalities that lived either inside of them, brought out by technology or existed in alternate time lines or dimensions
Undercover Personnel set is a lenticular set flipping images of the crew with alternating images of them when they worked undercover.
---
The checklist identifies card #200 as the 'title card'. There is no card marked #200 and according to SkyBox, the 30 Years Of Star Trek Reflections of the Future is the card the checklist is referring to.
---
Promos
Misc. Items
Sell Sheet
Binder
Survey Card
Exchange Card for a SkyMotion Card of Odo morphing.
T296 Cinema Ad Card
Paramount Official Star Trek Site Card
Reflections of the Future Card
A large sized SkyMotion was also available by mail order.
Dealer Ad Card
Pioneer Electronics inserted an uncut sheet of 9 cards into Laserdiscs of the Captain's Collection and Borg Collection. There are about 2-3000 of the sheets and a sticker is applied to the front of the laserdisc if it is included.
---
Phase 3
Release Date: 9, 1996
8 Cards Per Pack
36 Packs Per Box
Set Composition
| | | | |
| --- | --- | --- | --- |
| Base Set-99 | | Tribute-3 | 1:12 |
| 3-D Motion -3 |  1:18 | Skymotion-1 | 1:180 |
| Blueprint-9 |  1:5 | Mural Cards-9 | 1:12 |
| TOS CG Promos-6 |  1:6 | | |
Base Set
The final leg of the trilogy showcased Cosmic Phenomenon and Actor Tributes. Episodes and people who won awards are part of one the common card subsets. The last few cards are a ship post view. A First Contact Movie preview card is part of the common set. Cards 273-281 feature a 30 year timeline mural of the various ST episodes.
---
Collect Magazine at the time made mention of a $100 Phase III card #291 preview card. This card is a common card and worth .10 cents at the most.
---
Inserts
Insert sets for Phase III included three lenticular/motion cards, a 9-card blueprint mural set and a thin-paper set of 9 cards that made into a blueprint image. These cards had on the back, an ad for purchasing a limited edition blueprint poster.
The SkyMotion card is the DS9 Wormhole
Promos
No promo card was released for this set, though an image for one is printed on dealer's sell sheets.
This set also includes an exclusive 6-card TOS CG promo set.
MBNA released a Phase promo card featuring the TOS Enterprise and the three icons for Phase I, II and III. Limited to 30,000, this was the last of the three MBNA promo cards.
Misc. Items
Survey Card
Star Trek Fan Club Card
Exchange Card for a SkyMotion Card of the DS9 Wormhole
Mail-in Jumbo SkyMotion Card