Voyager Seasons Card Sets
Voyager Seasons I Series One Card Sets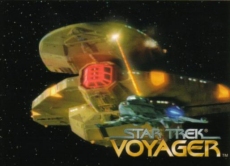 Release Date: June 7, 1995
8 Cards Per Pack
36 Packs Per Box
10 Boxes Per Case
Set Composition
| | | | |
| --- | --- | --- | --- |
| Base Set-96 | | Spectra-9 | 1:12 |
| Expand a Card-3 |  1:18 | SkyMotion | 1:180 |
Base Set
In 1995 SkyBox released the first of several Voyager sets. This set was based on the first episode, the Caretaker, in a 98-card set. Subsets included a 9-card mural of the Voyager, Behind the Scenes subset and a 24th Century Technology subset. Randomly inserted into packs was a T1 title card and P1 preview card. These are normally considered part of the common set and were inserted often enough that acquiring them shouldn't be a problem.
Inserts
A 9-card spectra set of the main crew.
A SkyMotion featuring the Voyager blasting through space.
A holographic Dr. Motion card. A debate arose over this card on whether there were two variations, a green Dr. holo and an orange Dr. holo. Some cards do seem to be more orange or green, something enhanced by the angle the card is held and light, a card may appear more orange than green or the reverse, but this seems more a production issue and does not necessarily represent a true card variation.
Promos
The promo card for this set was a 7 ½ x 10 ½ 9-card promo sheet and was given to dealers to promote the product. There is also an uncommon *non-refractor version where the pink spectra effect is missing on the sample insert card, but this seems more like a printing error*.
A promo card for Voyager showed up in a rather unusual place at the bottom of mini-boxes of MS I and II combination packs at stores. The same promo/ packs combo showed up as a bagged product with a cardboard header card.
Cards Illustrated Magazine had an exclusive C1 promo.
NSU had an exclusive N1 promo in its Vol. 6, No 2 issue.
Misc. Items
Exchange Card for Small SkyMotion card.
Inserted into packs were three different blueprint offer cards that could be sent away for three Expand-a cards. For $5.99 a card (or $15.99 a set), collectors would receive three trading card sized blueprint cards which opened to reveal a folded set of blueprints.
Survey Card
Large sized/Jumbo mail-away SkyMotion Card. ($39.95)
Binder
Sell Sheet
Production Binder-this is a 3-ring binder filled with details on Voyager and the production schedule details for the set.
Voy 1/1 15-card wrapper
Voyager Seasons I Series II Card Sets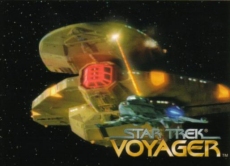 Release Date: Nov 8. 1995
8 Cards Per Pack
36 Packs Per Box
10 Boxes Per Case
Set Composition
| | | | |
| --- | --- | --- | --- |
| Base Set-90 | | Spectra-9 | 1:12 |
| Scratch and Sniff-6 |  1:18 | SkyMotion | 1:180 |
Base Set
Released in November 1995, Series II starts at the beginning of Season One with the Caretaker and continues through the full first season. The numbering system starts at #1 and it follows a pattern similar to the Episode sets. This 90 card basic set includes a mission chronology, episode cards, Strange New Words, mural cards, trivia card and 24th century technology subsets.
Inserts
9 spectra alien cards
Scratch-N-Sniff cards with Neelix's recipes on the back along with a small scratch and sniff of the recipe
A SkyMotion Redemption Card
Promos
A 7-1/2 x 10-1/2 6-card promo sheet was sent to dealers to advertise this set.
Two fairly uncommon promo/premium cards were issued for this set. The first, an NSU Gummie Awards card was given out to the first 1,000 respondents of their annual survey. That it was a ST card was kept secret until after the survey, so many who didn't send their survey answers in did not get this coveted card. The second was limited to 10,000, is about as hard to find, if not harder, even though it exists in larger quantities. This card was sent to people whom acquired a ST MBNA credit card. Many were not aware of the offer or had already applied for the card prior to the offer, missing out on the chance to get this card. Many cards were likely sent out to non-collectors who tossed them into drawers without fully appreciating their significance to collectors.
Misc. Items
Retail Exclusives
Both Blockbuster and Wal-Mart came out with exclusive subsets, the pop-up card and the embossed set. The pop-up set from Blockbuster was one to a pack and was a card that when pulled down a character popped out, looking as though they were standing on the transporter (except for the Dr. who has a sickbay background. The embossed set from Wal-Mart was similar to the Spectra set from Series I, but rather than the shiny background, it has an embossed look similar to the TNG episode series of inserts. The especially maddening part of these exclusives was many had collected complete sets by the time they discovered the exclusive cards existed and they then had to purchase more packs in an effort to get these cards. They were, however, 1 to a pack, so that helped make it easy to acquire, especially if traders were readily available. Wal-Mart's boxes were larger than usual, a jumbo box, holding only 24 packs, but each pack had 15 cards plus one embossed card.
There were three different wrappers for this set, each featuring 3 different crew members.
The boxes and the wrappers for Blockbuster and Wal-Mart had slightly different wording to market the exclusive cards.
Binder
Sell Sheet
Mail-Away Jumbo Sized SkyMotion Card-5,000 produced
Survey Card
Dealer Sale Poster
V295 Cinema Collection Ad
Paper ad for a Trek globe
Temporary Chakotay tattoo in blue, purple and a lavender shade.
A Trivia quiz was also included in each pack.
---
Voyager Season II Card Sets
Release Date: 1996
8 Cards Per Pack
48 Packs Per Box
Set Composition
| | | | |
| --- | --- | --- | --- |
| Base Set-100 | | Foil Cards-9 | 1:12 |
| Holo-Cel-3 |  1:48 | | |
Base Set
The next series of Voyager episode cards was released in 1996 and covered Season Two. The common set consisted of 100 cards, an Official Fan Club card, 2 checklists and a production credits card. The set follows the basic setup as the Episode collections, a 9-card timeline of Season Two and three cards for each episode with summaries on the backs. There is a subset within the base set called "Alpha Quadrant Visitors" and highlights characters such as Q, Riker and Mark. (Janeway's boyfriend)
Inserts
3 Foil Strange New World Cards
3 Foil Xenobio-Sketches
3 Foil 24th Technology cards
There were also 3 holodeck cards. Similar to the cels from First Contact, these cards had a clear background with images of the crew in the forefront. At the proper angle, the background lines of the holodeck can be seen. Some of the holodeck inserts have scratch/markings running the length of the card, some as much as an inch wide. This appears to be some sort of a production defect.
---
Collectors complained about a production error that caused the insert cards to be numbered as though they were part of the common set. (191-201).
---
Promos
Misc. Items
Star Trek 1997 Preview Card
OFC Card