Master Series I and II Card Set
SkyBox commissioned original artwork from several science fiction artists for their Master Series I and II set.
Master Series I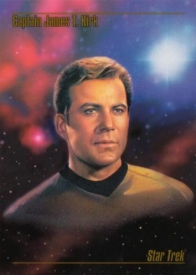 Release Date: August 7, 1993
6 Cards Per Pack
36 Packs Per Box
Set Composition
| | | | |
| --- | --- | --- | --- |
| Base Set-90 | | Spectra Set-5 | 1:18 |
Base Set
SkyBox released Master Series One in 1993, an artwork series based on TOS, the movies, TNG and DS9. Several artists, such as Gerry Roundtree and Sonia Hillos, were commissioned for their artwork. The backs offer a short quote from the artist and a small summary about the scene. Each artist has one signature card back with a facsimile of their signature. This was a pretty set with pleasing artwork. Cards 1 through 17 make excellent in-person autograph cards.
Though touted as a limited edition production, supply exceeded demand and sealed boxes were and still are plentiful. According to one CCPG article, though very successful, a large amount of product remained and was to be destroyed.
MS One was one of the first Trek Series to have stated odd for inserts. The standard prior to this was to say, "Look for randomly inserted holograms' Over the years, lawsuits have been filed against trading card companies stating that insert cards was similar to a lottery. Odds are now posted on cards and packs and barring unavoidable collation problems, over the course of the print runs, those should hold true.
---
October 27, 1996; SUNDAY; ALL EDITIONS HEADLINE: CARD MAKERS ACCUSED OF UNSPORTING CONDUCT BYLINE:
Special from The Wall Street Journal The card companies began stating the odds of obtaining chase cards on packs in 1992 under a settlement with the New York City Consumer Affairs Department, which accused them of misleading advertising. Copyright 1996 Daily News, L.P. Daily News (New York) December 08, 1996, Sunday HEADLINE: LAWSUIT IS IN THE CARDS BYLINE: By PATRICE O'SHAUGHNESSY
Since 1992, manufacturers have been obligated to state the odds of obtaining chase cards on packs. The move came after the city's Consumer Affairs Department issued citations against them. "They were advertising in a manner to lead the public to believe almost every pack would contain one," said Commissioner Jose Maldonado. "Kids and adults were enticed to spend a lot of money. With the odds, you can make an informed choice."
News Reports compliments of Aaron Derr
---
Inserts
The insert set was easy to collect compared to today's standards, a mere 5 spectra cards. Five cards found in the common set, but with an added spectra effect.
Promos
The Uhura promo card. Uhura's Name is misspelled, an uncorrected error.
Excelsior leaves Spacedock, both Uhura and this were sent to dealers for general distribution.
Worf promo, an exclusive to NSU (Vol. 4, Issue 3).
6-card uncut sheet (#'s 04,08,11,27,36 & 36) give away at Chicago's 1993 National Sports Collector's Convention on July 22, 1993. This sheet, packaged in a white folder with several other sports card promos was limited to 7500. How many survived the trade show floor are unknown. The sheets are numbered xxx/7500. There are also sheets with no stickers.
Misc. Items
No binder was produced for this set. This was a much-disputed fact, finally put to rest by Ken Baroff, the then Entertainment Director for SkyBox. When asked why there were no MS I and DS9 binders (beyond the first Premiere binder), he has this to say: "Binders were my personal mission and "gift" to the compulsive STAR TREK collector (Ed Note: LIKE ME!!!) People loved 'em, but we were lucky to break even on them (after manufacturing and fulfillment costs). I felt like once we introduced them and people reacted so positively, we couldn't just stop doing them (that's why I consider them my personal "gift"). The first Master Series came out while I was with Fleer for a brief stint in 1993 and DS9 and beyond the original came out after my departure from SkyBox in 1996."
Sell Sheet
MS I and II combo box with packs of both series and a 4-card Voyager promo sheet. Also repacked without the box in a clear plastic bag with a retail header card.
QVC released several of the single common cards in a limited edition autographed version. Signed with white ink, they come in a special holder and have a COA. The cards themselves are the same as pack pulled.
Master Series II Card Set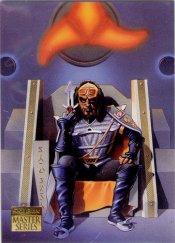 Release Date: Sept 9, 1994
6 Cards Per Pack
36 Packs Per Box
Set Composition
| | | | |
| --- | --- | --- | --- |
| Base Set-9100 | | Triptychs Cards-6 | 1:10 |
Base Set
Master Series 1994 followed in the footsteps of MS, offering artwork from various artists, like David Dettrick and Greg Huber. The backs gave details about the scene and what medium the artist' created the original painting in (i.e. oils or acrylics) A sell sheet for the set notes: "A variety of artistic styles, from oil paintings, to digitally enhanced photographic images are included in this unique card line." Subsets include Galactic Encounters, On the Edge, Leisure Time, Alien Encounters, Arch Enemies, Worlds of the Federation and Romantic Encounters. It was advertised having a very limited production run, but SkyBox did not release production runs often, so there is no way to know the number of boxes.
Cards 25-33 make up a 9-card puzzle and cards 45-50 can be paired into *enemy artwork* (For example Q and Picard). However, they would have to be rearranged to properly display in the binder.

Inserts
Nine card insert set called Triptychs (Three 3-card murals) of the main crew members from all three Trek series.
---

Triptychs: an ancient Roman writing tablet with three waxed leaves hinged together.
---

Promos
S1 Argus Array

S2 Gowron, both sent to dealers for general distribution

Argus Array unnumbered promo from CCPG (with the CCPG logo on back)

Gowron, unnumbered promo, which was exclusive to NSU (with an NSU logo).

At conventions, SkyBox released a promo pack containing many of the items they were currently putting out that year. It contained one header card and several promo cards. There are some variations in the contents of the promos, but one includes the S2.
Misc. Items
Binder ($19.95)
Set of Proscenium holograms. The holograms were half-embossed and half holograms. (wrapper offer)
Also inserted randomly into packs was a card called "The Future Arrives in 1994" (a variation of this card appears in Episode One packs. The card that says "STAR TREK PROMO…" was out of Season One packs, the one that says "SKYBOX INTERNATIONAL/STAR TREK PROMO.." came from the 1994 Master Series packs).
Dealer Poster
Survey Card
6″ x 8 1/2 Joe Jusko Artwork Card-reflects the images on the insert cards he drew, along with his signature.
Diamond Exclusive Sealed box with a hologram shrinkwrapped to the box with one of the 4 Proscenium holograms.
MS I and II combo box with packs of both series and a 4-card Voyager promo sheet. Also repacked without the box in a clear plastic bag with a retail header card.