Star Trek Topps 1979 Movie card set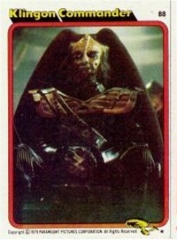 Release Date: 1979
88/22 card base set
10 Cards Per Pack
36 Packs Per Box
Checklist
Card Images
Star Trek the Motion Picture was released in the theater much to fan's delight and was heavily merchandised in cards, toys, comics and more. Topps produced this 88 card/22 sticker set in 1979 in the US and overseas.
---
One odd mention….card 54, Transporter Malfunction, is actually a scene of Ilia and Decker playing an electronic game. 
---
Inserts
The US 22 sticker set highlights the crew, ships and aliens.The backs also form a puzzle that make into a publicity photo of Kirk, Spock and the Enterprise.
Promos
There were no promos for this set.
Misc. Items
A sell sheet
There are 3 different wrapper designs in the set, the variations are in the ads on the side of the wrapper.
Four bread companies, Rainbo, Kilpatrick, Colonial and Manor, did a TMP promotional and inserted singles of a 33-card subset of the Topps 79 into bread. Of the 4, Manor is often pointed out as the most difficult to find. Uncut sheets of the bread sets have been sold as well, especially Rainbo. The Backs varied between text about the stars and crew, movie summaries and other tidbits or a crew shot featuring the same image found in the main Topps 79 set puzzle.
Check out the Gallery for a peek at the makings of a 1979 Topps Star Trek Sticker. This lot includes the original photo, acetate proof sticker and 2-piece acetate overlay used to create sticker (#12) The Deltan Beauty. All these overlays work together to produce the final creation.
A book entitled Star Trek Vault, 40 Years From the Archives was released in 2011. It included 1 4 sticker sheet.The stickers are labeled as reprints and measure 5 by 7 3/4.
In 2013, Topps released a 75th Anniv. card set that included a few Star Trek Cards. It includes various Topps 79 "buyback" cards They have a gold stamp on the front.