Star Trek Topps 1976 card set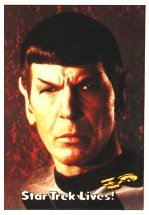 Release Date: 1976
5/1 Cards Per Pack
36 Packs Per Box
24? Boxes Per Case
Checklist
Card Images
Set Composition
| | | | |
| --- | --- | --- | --- |
| Base Set-88 |  5 per pack | Sticker Set-22 | 1 per pack |
Base Set
This set, released by Topps in 1976, features all three seasons of the Original Series. It was the first US set since the 1967 set and the first color Trek set.
---
See anyone missing? Sulu is nowhere to be found on either on the cards or stickers.
---
With the 76, 79 and few other sets, you may hear people talk about the terms "Single print" and "Double print". Printing plates were comprised of 66 cards, which was the standard set size at the time. If a card set had more than 66 cards, then a second plate had to be made. So one plate had 66 cards, the other plate 22 cards and then 44 duplicate cards from either plate. The "single print" cards are the 22 cards that were only printed once on the two sheets of cards. Many times so many sheets were made that this double printing didn't affect the rarity of any one card, but it was common to see *lots* of these duplicate cards for sale.
The card backs have either one * or two ** near the copyright information. One large sheet is split into two sides, with two layouts. One half is *, the other half is **. Some collectors want one of each types in their collections.
Inserts
22 peel and stick stickers with images of the crew, aliens and the Enterprise. Included in the gallery section is the sticker sheet layout information and references the * and ** noted earlier in this chapter. With 16,000 full sheets (8,000 * and 8,000 **), that means there are 9,600 of each sticker number available. (Though not all sheets may have been cut and used.) For the *true* completionists, there are 4,800 * and 4,800 **. Cost to Topps for the run of stickers? $2,508. According to some production information, there are more possible card sets then sticker sets.
Promos
There were no promos for this set.
Misc. Items
A sell sheet
A test sticker was produced for this set that had the same image as the wrapper. Possibly as few as 10 were produced, but that number is unconfirmed.
In 2013, Topps released a book based on the Topps 76 set. Each card and stickers' front and back are featured in this book. They also took the opportunity to right an injustice..releasing with the book 4 promo cards, one of which featured Sulu, who hadn't appeared in the original TOS 76 set.

for an article on Topps 76 PSA grading.