Star Trek TOS 50th Anniversary Trading Cards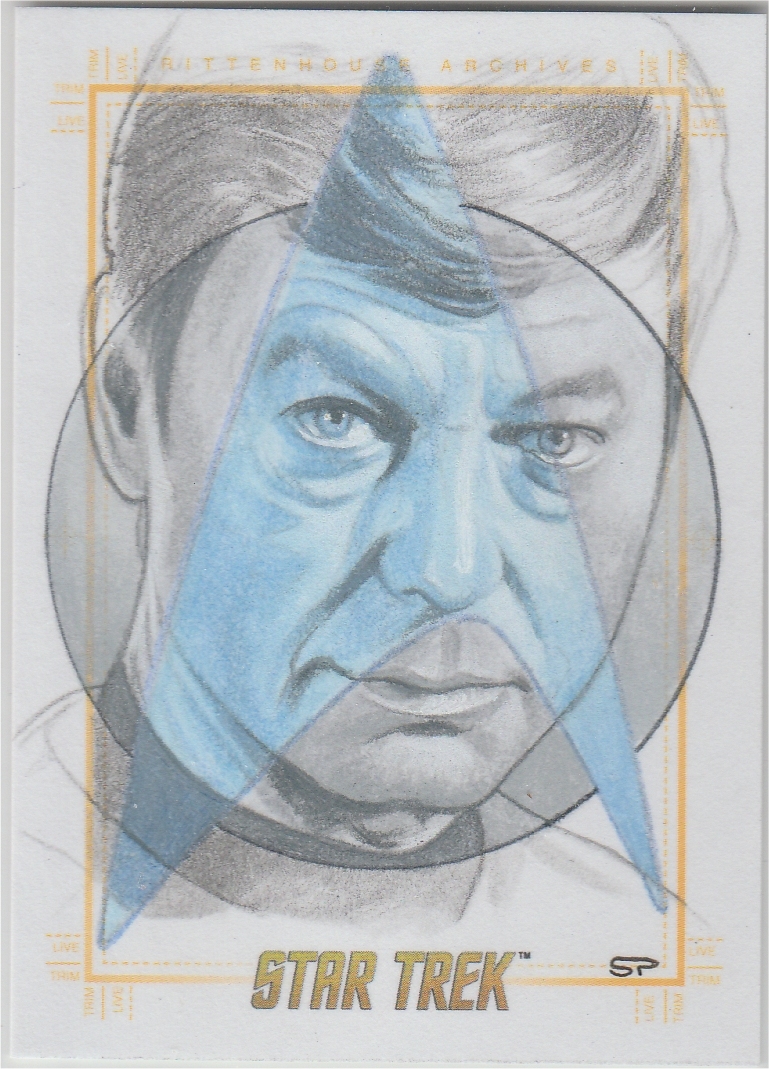 Release Date: March 2, 2016
5 Cards Per Pack
24 Packs Per Box
12 Boxes Per Case
Production Run-10,000
Set Composition
| | | | |
| --- | --- | --- | --- |
| Base Set-80 | | Mirror Heroes-9 | 1:288 |
| Cage Uncut-70 | 1:12 | Nimoy in Memoriam-9 | 1:288 |
| Mirror Uncut-50 | 1:12 | Sketch cards-42 | 1:288 |
| Bridge Crew Heroes-9 | 1:96 | Autographs-67 | 1:12 |
| Enterprise Concept-9 | 1:96 | Cut signature-3 | 1:5400 |
Base Set
To mark the year of the 50th Anniversary of Star Trek, RIttenhouse put together a premium card set. The base set consists of 80-gold foil, die-cut cards.  There is a card for each episode and utilizes nearly 400 photos, with First Officer Log text. The colors are bright and very representative of the series. Because this set includes quite a very high end cards including lots of gold foil and stamping, and higher quality card stock and mirror boards case prices were higher for this set.
Inserts
"The Cage" Uncut  is a 70 Card gold foil stamped set, going into great details about the first pilot. The word uncut confuses people. The cards themselves aren't uncut, it speaks more to the idea of it being a very in-depth looks.  Nearly 150 different photos were used in this insert set.
"Mirror, Mirror" Uncut  is similar to the Cage Insert set; A 50-card set of Mirror, MIrror episode. It is printed on high-end mirror board using 100 different photos.
U.S.S. Enterprise Original Concept Art 9 Card set. This set features artwork Gene Roddenberry commissioned to create the look of the U.S.S. Enterprise. Charendoff says "The Roddenberry estate proposed the idea to us, and we certainly were excited by the prospect of showing off these original designs. We are always looking for original material that brings a new perspective to the fans and collectors. As far as I know, these images had never been published previously, certainly not on cards."
Heroes of the Enterprise is a 9 card insert set, printed on high-end, clear plastic, featuring the main cast members, each on their own card.
The "Mirror, Mirror" Heroes insert set consists of  9 cards printed on very reflective, double-sided mirror board, similar but not exactly like the TOS Season II Mirror set. Like that set, it has one side from the good universe and one side from the mirror universe.
The In Memoriam – Leonard Nimoy 9 card ) 9-card set is similar to the previously released Memoriam set, except for being standard sized. The over-sized cards would not fit into the box sized utilized today. Other then that it has the same format, gold foil numbering system x/125.
There are 67 autograph cards in this set. They can be broken down into two categories. The first is called the Silver Signature series and features a black background with silver signatures. The second style of autographs is a black bordered set. It has a black border with a white signature area for signing. Several actors have cards in both formats, both in this set and also from TOS Portfolio.  Please note even though the word Scarce is on the checklist there are no scarce auto cards in this set (except the cut cards). There is one silver and one black border card in each set.
Each case has one sketch card. Many repeat artists and some new names round out this very beautiful insert set. Most are full color sketches.
And last, but surely not least, there are 3 cut signature cards of Jeffrey Hunter, Susan Oliver and Jill Ireland. They are hand numbered. Hunter is x/12, Oliver is x13 and Ireland is x/35. The format of these cards is similar to the Roddenberry and Doohans. They vary from signatures on checks, photos and cards. Ireland has cards signed with the named Jill Ireland or Jill Ireland Bronson. When asked about how the cut signature cards came to be, Charendoff stated "The idea started to come together about five years ago or so, as I was starting think about what we could do for the 50th anniversary.  Jill Ireland was an obvious choice, since there seemed to be a number of her canceled checks in the autograph market. Finding authentic items signed by Jeffrey Hunter and Susan Oliver proved a bit more challenging, since there did not seem to be any cancelled checks. More importantly, both of those actors died relatively young, and they did not have the kinds of careers or popularity in general as Ireland, who was more accomplished as well as having been married to another famous actor, Charles Bronson.

Up to that point, my focus had been almost exclusively on getting living actors to sign cards. But as we started to exhaust those opportunities, cut signatures of deceased Star Trek actors was making more sense to me. I only wish we could have found more cut signatures of Hunter and Oliver, especially because they were co-stars of the original pilot episode, which is one of my all-time favorites."
Autograph Variants
Maritette Hartley signed her black backed autograph in silver and gold.
Victor Brandt signed his black bordered card in 1 line and 2 line.
Sally Kellerman signed her black bordered card in 1 line and 2 line.
Michael J Pollard had various versions of his signatures. 1 line, 2 line and 3 line versions. With " around J and without.
Promo Cards
There are two promo cards for this set. They are gold foil embossed promos and look very high end. They P1-General Distribution
P2-binder exclusive.
Misc Items
The Case Topper is a variant of the base single 40, numbered 40A, it uses images form the Mirror Universe and Mirror Spock's First Officer Log.

The 6-Case Incentive is a 

Silver Signature Series Autograph Card Signed by Leonard Nimoy as Mirror Spock
The 

9-Case Incentive is a d

ual autograph card Signed by William Shatner and Leonard Nimoy

The archive box consists of two boxes (sealed with a bright red sticker). It includes the Cage, Mirror, Enterprise Concept, Heroes of the Enterprise and Mirror Heroes sets. Each box has 1 sketchcard, a full set of autograph cards, the case topper and the 6 and 9 case incentive. It includes an exclusive M8 Mirror, Mirror card of Marlena done up in the same format as the SkyBox TOS II set.It also includes a set of 4 color printing plates from one of the base cards. Each archive box has a unique set of 4 cards.

The full color binder includes the P2 promo card and one 9-card pocket page.