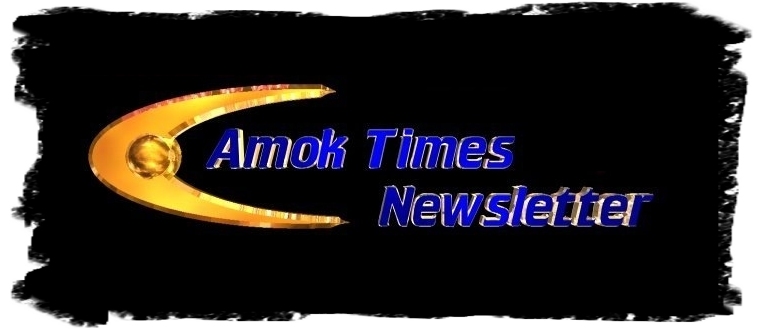 The Amok Times Newsletter started in April 1996 as a way to provide information on Star Trek trading cards. The pages throughout this site are dedicated to the many, many sets released over the years by several companies. It includes information, statistics, images and more.
This website is a new format for me and I welcome any suggestions or thoughts. Currently, I have completed the main trading card sections such as Rittenhouse and SkyBox. I will begin working on the more oddball sections like phone cards and stickers and such next.
Contact STCardGeek with any questions
Current Trek Card News
---
Archive Box Contents
15 Star Trek Beyond quotable cards
9 Star Trek Beyond metal poster cards
9 Star Trek movies patch cards
20 Star Trek movies Relic cards
TBD Star Trek movies autograph cards
3 Star Trek Beyond promotional cards
1 Star Trek movie poster case card
1 9-case incentive Chris Pine autographed relic card
1 exclusive Justin Lin autographed card
1 exclusive 7-piece Bridge crew relic card
1 exclusive Chekov command Bridge pin variation card
1 exclusive set of four printing plate cards
No base set
No base parallel metal cards
No Star Trek Beyond uniform pin cards
No 6-casr incentive Zoe Saldana autograph Relic card
No in memoriam cards
No sketch cards
---
German Cinema Movie Poster Cards
Two new cards to add to the German Cinema Magazine card set!
---
Toronto Fan Expo Star Trek Discovery Cards 
Set of 11 trading card sized (think card/paper stock) cards from 2017 Toronto Fan Expo. Can you name that eyeball?
---
Star Trek Beyond Movie Cards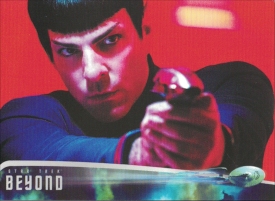 Release Date: December 13, 2017
5 Cards Per Pack
24 Packs Per Box
12 Boxes Per Case
2 Autograph Cards in Every Box
Signers from all 3 modern Star Trek movies, including Chris Pine (Captain
Kirk), Zachary Quinto (Spock), Zoe Saldana (Uhura), Karl Urban (Bones),
Simon Pegg (Scotty), Sofia Boutella (Jaylah), Alice Eve (Carol Marcus),
Ben Cross (Sarek), Bruce Greenwood (Captain Pike), Peter Weller (Admiral
Marcus) and more! Look for autograph/relic cards of Zachary Quinto, Karl
Urban, Alice Eve and Sofia Boutella, and "Classic" movie-style autograph
cards, too. ADDED 9/8 Jimmy Bennett (Young James T. Kirk)
1 Relic or Pin Card in Every Box
Screen-Worn Costume cards include materials from Captain Kirk, Spock,
Uhura, Scotty, Chekov, Krall, Jaylah and more. Single relics, dual relics,
dual character relics and prop relic! Plus Starfleet uniform badge/pin cards
of the entire Enterprise bridge crew
1 Metal Card in Every BoxSet Composition:72-Card Base Set
72-Card Numbered Metal Base Parallel Set
9-Card Quotable Star Trek Set
9-Card Metal Character Poster Set
9-Card Uniform Patch Set
10-Card Uniform Pin Set
9-Card Anton Yelchin/Chekov In Memoriam Set
6-Card Leonard Nimoy/Spock In Memoriam Expansion Set
Randomly inserted Sketch CardsIncentive Levels:6-Case Incentive:
Autograph Relic Card Signed by Zoe Saldana (Uhura)
9-Case Incentive:
Autograph Relic Card Signed by Chris Pine (Kirk)
18-Case Incentive: STAR TREK BEYOND Trading Cards Archive Box, including
Exclusive Seven-Piece Bridge Crew Relic Card, Exclusive Justin Lin
(Movie Director) autograph card, Exclusive Chekov Command
Badge/Pin Card variation (U6a) and Exclusive set of 4 color printing
plates used to make the front of one base set card
---
Topps Wacky Packages 2017 Fall Preview Card Set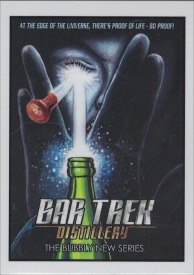 For one week, starting 9/7/2017, Topps is selling a set featuring parodies of new TV Series due out in the fall. One of the card parodies ST Discovery. You can order them at Topps.com
---
Women of Star Trek 50th Anniversary
Released July 26, 2017!
In 2010, Rittenhouse put out the Women of Star Trek set.  This updated version includes autographs in the same style, sketch cards and costume cards! A few produced for the 2010 but never released until now!
---
Star Trek Online Game and Buddy Cards
Found in the Collector's Edition of the Star Trek Online Game. There are 3 cards; 1 game card and two (duplicate) buddy key cards.
---
2017 Topps Wacky Packages 50th Anniversary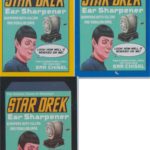 Released in 2017, this set features multiple parallel parody stickers.  The Star Trek one is called 6 of 9 Star Drek.  The Cardboard Connection reports these parallels. I have put an * next to the ones I have seen. Parallels include:
Blue – 1 per pack (Display Box) *
Sepia – 1 per pack (Hobby Collector only)
Yellow – 1:2 packs (Hobby Collector only) *
Bronze – 1:2 packs (Hobby Collector only)
Black Ludlow #/99 (Hobby Collector only) *
Silver #/50
Red Ludlow Back #/25 (Hobby Collector only)
Red #/10
Gold 1/1
Blank Back- 1/1 Topps Vault
Unknown number of Printing Plates
---
Galactic Groceries Star Trek Parody Cards
Released over the years at the Philly Show, these cards satire Star Trek on food products.  The Trek card was released in 2015 and the Kreepy Card in 2016.
---
Read an excerpt from one of William Shatner's book about card collecting.
Check out this old ATN Contest in our Walk Down Memory Lane!