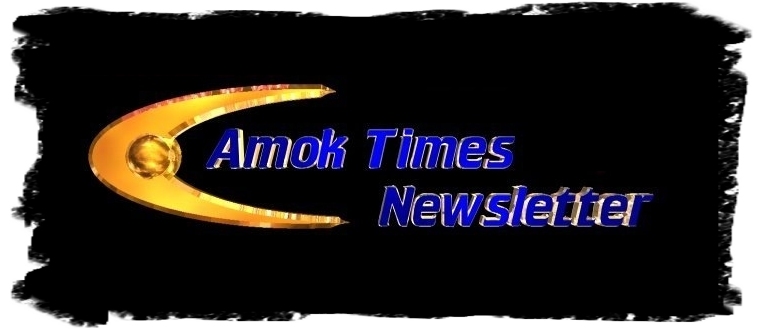 The Amok Times Newsletter started in April 1996 as a way to provide information on Star Trek trading cards. The pages throughout this site are dedicated to the many, many sets released over the years by several companies. It includes information, statistics, images and more.
This website is a new format for me and I welcome any suggestions or thoughts. Currently, I have completed the main trading card sections such as Rittenhouse and SkyBox. I will begin working on the more oddball sections like phone cards and stickers and such next.
Contact STCardGeek with any questions
---
Read an excerpt from one of William Shatner's book about card collecting.
Check out this old ATN Contest in our Walk Down Memory Lane!
---
The Women of Star Trek 50th Anniversary Trading Cards
Release Date: July 26, 2017
5 Cards Per Pack
24 Packs Per Box
12 Boxes Per Case
Check out Rittenhouse's Site for images!!
P1 promo card available!!
Checklist
---
**Update from Rittnehouse**
Last minute surprise addition to our Women of Star Trek 50th Anniversary Archive Box! In addition to the previously announced WCC16 card of Yeoman Rand, which is in the packs, and the WCC24 card of Seven of Nine, which is in the Archive Box, we're including an alternate version of WCC11 of T'Pol, which has material from the trim of her uniform, also in the Archive Box. This material is different from what we had used on the cards in the previous Women of Star Trek set. Happy collecting!
---
Key Features:
3 Autograph Cards in Every Box:
More than 50 signers, including Vanessa Williams, Whoopi Goldberg, Marina Sirtis, Jeri Ryan, Yvonne Craig, Julie Warner, Kristanna Loken, Laura Banks, Fionnula Flanagan, Adrienne Barbeau and more.
1 Costume Card in Every Box:
Costume cards include materials from Guinan, Seven of Nine, T'Pol, B'Elanna Torres, Beverly Crusher, Jennifer Sisko, Keiko O'Brien, Vash, Anij, and more.
1 Sketch Card in Every Case:
Artists include Dan Bergen, Chris Meeks, Kevin Graham, Mike James, Emily Tester, Warren Martineck, Mick and Matt Glebe, Veronica O'Connell, Jim Faustino, Brad Utterstrom, Carlos Cabalerio and others!
Set Composition:
100-Card Foil Base Set
100-Card Numbered Metal Base Parallel Set
9-Card Star Trek Women in Command Cards
18-Card Quotable Women of Star Trek Set
18 -Card Numbered Women of Star Trek GOLD Metal Set
6-Case Incentive:
Legends of Star Trek Autograph Card Signed by Nichelle Nichols
9-Case Incentive:
THE WOMEN OF STAR TREK Base Parallel Sketch Card Drawn by Charles Hall
18-Case Incentive:
THE WOMEN Of STAR TREK 50th Anniversary Trading Cards Archive Box, including Exclusive Teri Garr (TOS) Autograph Card, plus Exclusive set of 4 color printing plates used to make the front of one base set card!
**ADDITION** WCC16 (Yeoman Rand/TOS) will be randomly inserted into packs of the cards and will be Extremely Limited (not found in the Archive Box); whereas WCC27 (Seven of Nine/VOY) will not be inserted into the packs but can be found exclusively in the Archive Box.
---
Star Trek 50th Anniversary Card Set

 
The set is out! Check out the images and information.

Checklist (updated with variants)

for more Information.
---
 
New Trek card goodies! To see more, visit the New Card Sightings on the menu to the right.
Star Trek Online Game and Buddy Cards

Star Trek Online Collector's Edition Box

Star Trek Online 60 Day Time Card and Buddy Key Card

Found in the Collector's Edition of the Star Trek Online Game. There are 3 cards,, 1
---
2017 Topps Wacky Packages 50th Anniversary 

Released in 2017, this set features multiple parallel parody stickers.  The Star Trek one is called 6 of 9 Star Drek.  The Cardboard Connection reports these parallels. I have put an * next to the ones I have seen. Parallels include:

Blue – 1 per pack (Display Box) *
Sepia

 – 1 per pack (Hobby Collector only)

Yellow

 – 1:2 packs (Hobby Collector only) *

Bronze

 – 1:2 packs (Hobby Collector only)

Black Ludlow

 #/99 (Hobby Collector only) *

Silver

 #/50

Red Ludlow Back

 #/25 (Hobby Collector only)

Red

 #/10

Gold

 1/1

Blank Back- 1/1 Topps Vault
Unknown number of Printing Plates
Galactic Groceries Star Trek Parody Cards

Galactic Groceries Promo Card GG-P5

Galactic Groceries GG-P3 Promo Card

Released over the years at the Philly Show, these cards satire Star Trek on food products.  The Trek card was released in 2015 and the Kreepy Card in 2016.
Dave and Buster's Captain's Cards

Dave and Buster's Animated Set

Dave and Buster's Animated Foil Set

Released May 2017, the third series of cards consists of 8 regular and 8 foil cards. The rare card is M'Ress

DS9 MOF Odo Convention Variant

 
Signed at a UK Manchester convention.

Fox/Dominion TNG Card set

 
This is an update to the Fox set with a better view of the 7th, rare card.